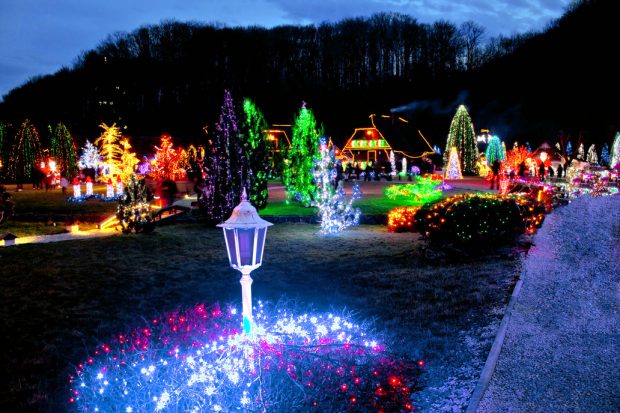 Are you new to your neighborhood? Is it the first holiday season in your new city? The holidays provide a lot of great opportunities to get out in the community, mingle with neighbors and have fun with the family. And there's nothing more fun than checking out twinkling, sparkling, magical Christmas lights.
Kids are dazzled by them, and adults turn into grown up kids when they see grand light displays that show off holiday spirit. If you want to venture out beyond your immediate area, here are a few ways to find local neighborhoods with the best Christmas lights in any city.
Parade Routes
Parades are one of the oldest traditions of the holiday season. They begin on Thanksgiving Day with the world famous Macy's Day parade and for weeks afterward cities around the country pack the streets with people. Areas around parade routes are a pretty safe bet when it comes to holiday displays.
Parade routes automatically establish a neighborhood as a holiday hot spot. Many homes and businesses along a parade route take part in the fun with creative light displays and yard decorations of their own. The owners know that others will be out and about during the event so they're more inclined to go the extra mile.
Local Lifestyle Papers and Websites
Every town has at least a few city publications that cover local interests like neighborhood Christmas lights. For example, in Austin Community Impact and the Austin American Statesman are two great local resources. Newspapers and websites like these will usually have a community happenings section with holiday information.
Local Neighborhood Experts
Realtors, landscapers, your local moving company – they all put in a lot of hours driving around their hometowns. These local home service providers cover a lot of ground every day, and they pay attention to which neighborhoods are the most festive compared to others.
Check the blogs of local service providers to see if they've mentioned places to see Christmas lights. Some realtors also create community calendars with seasonal events that could be worth checking out.
Local Mom Blogs
No one scopes out Christmas hot spots better than a mom. She knows that during the holiday season the promise of driving through the most festive neighborhood in town is all it takes to calm the kids. Moms that blog in your city are one of the best resources for locating Christmas lights. If they haven't already posted on the topic you can always send them an email to ask for suggestions.
Don't let a move during the holidays dampen your Christmas spirit! If you're moving to Central Texas or the Denver metro Square Cow Movers can handle the heavy lifting so you have time to enjoy the holiday festivities with family and friends. Give us a call or get an instant moving quote online.