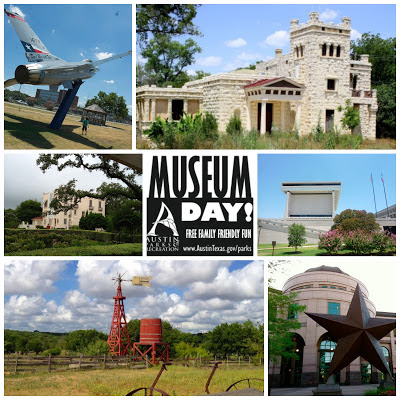 This Sunday, September 21, 2014 is Austin Museum Day. The best part about Austin Museum Day? It's free! Over forty institutions are offering free admission and activities on Sunday. Austin Museum Day is hosted by the Austin Museum Partnership.
Member institutions of this organization include: The Contemporary Austin, Austin History Center, Blanton Museum of Art, Briscoe Center for American History, Bullock Texas State History Museum, Elisabet Ney Museum, French Legation Museum, George Washington Carver Museum and Cultural Center, Goodwill Computer Museum, Harry Ransom Center, Lady Bird Johnson Wildflower Center, LBJ Presidential Library, Mexic-Arte Museum, Mexican American Cultural Center, Neill-Cochran House Museum, Republic of Texas Museum, Texas Memorial Museum, Texas Military Forces Museum, Texas Music Museum, The Thinkery and the Umlauf Sculpture Garden & Museum.
If none of these museums are reason enough for you to attend Austin Museum Day, consider the following reasons why you should!
-Museums are dynamic. Many people operate under this false idea that these historic and long-standing institutions filled with art or objects from the past never change. There are many people who visit a museum as a child, but then never return until they have children of their own. A history museum may interpret the past by exhibiting historic artifacts, but this doesn't mean the museum is static. Museums have new exhibitions every year, the art moves, new directors and museum staff members are hired, different docents can offer diverse perspectives and new stories are told.
-Museum culture. If you want to help foster a strong museum culture in our community than patronize these organizations that promote history, culture and the arts. Children often experience museums through school field trips. If you are a parent don't let this be your child's only frame of reference for visiting museums. Model the behavior you would like your children to have. Don't expect your children to develop an appreciation for history, a love of the arts, or a greater cultural context if you don't visit museums as a family. Experiencing museums in a smaller group provides visitors with the opportunity to linger or further explore a particular area of interest.
-Museums matter. Museums matter because they provide us with a space to engage with objects, formulate new ideas about our past, relate to other communities in a different way and provide a greater frame of reference for our daily lives. Museums are a reminder of the frailty of human life. People have walked on this planet before us and will after us, but somehow certain objects and art remains. Museums offer a unique and authentic experience that you cannot duplicate.
Hope you attend Austin Museum Day this year! What have you got to lose? After all, it's free!
Image: http://4.bp.blogspot.com/-py0SPtNBqqM/UjdNX-6mWvI/AAAAAAAAXGo/nkFWmzGL5ls/s400/Austin+Museum+Day+2013.jpg
Original Source: https://squarecowmovers.com/austin-museum-day-2014/