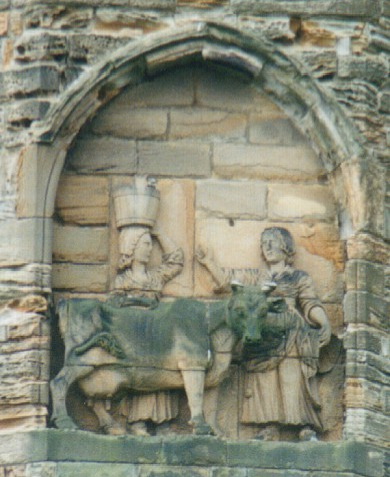 Now that you are all caught up on the early history of cows, peruse some of the highlights in cow history from the past few hundred years. Although many illnesses were transmitted through milk, cows contributed to advances in science and human health in the late 18th and early 19th centuries.
Cows helped to cure smallpox.  Common folk knowledge in the 18th century held that milkmaids did not become silk during outbreaks of smallpox plagues in Europe.  Edward Jenner, an English physician, relied on this knowledge to develop a vaccine for smallpox in 1796.  Jenner had observed that milkmaids who were infected with cowpox then became immune to smallpox.  He deliberately infected an eight year old boy, James Phipps, his own son and other children with cowpox.  Later he exposed the children to smallpox and none became sick.  This was how the smallpox vaccination was developed.
Cows were a part of the process when Louis Pasteur developed pasteurization. Pasteurization occurs when liquids are rapidly heated or cooled to kill harmful microbes that can cause sickness.  Pasteur, a French chemist and biologist, was instrumental in proving germ theory.  In the early 19th century not everyone believed or understood that disease and food-borne illnesses were transmitted through germs.  Through his research which demonstrated that harmful microbes in milk and wine caused sickness, Pasteur was able to lay the groundwork for developing pasteurization.
Spilled milk to protest low prices.  We are sure you have read about the Boston Tea Party, where members of the Sons of Liberty dumped tea from the East India Company in the Boston Harbor to protest taxation without representation.  In 1883 farmers in New York formed "spilling committees" to block roads, seize shipments and dump out milk to protest the low prices distributors paid for their milk.  This caused a milk famine in New York until a compromise was reached in March of 1883.
Milk causes illness. Despite the discovery and development of pasteurization, the pasteurization of milk did not become mandatory in the United States until 1917.  In the mid to late 19th century milk-born illnesses were a huge problem.  Milk produced in unhygienic facilities caused diseases like typhoid and tuberculosis to spread.  Children were the primary drinkers of milk, so there were high infant mortality rates due to these milk-born diseases.  In 1913 a large typhoid epidemic in New York City attributed to contaminated milk helped to bring awareness for the need for mandatory pasteurization of milk.
Cattle drives change the American landscape.  Beginning in the mid-19th century after the Civil War cattle drives really helped to shape the landscape of the United States.  Cattle were in high demand and ranchers (especially from Texas) would spend months herding the cattle to major cities where they would be sold or transported elsewhere.  Cattle drives helped to bring about major changes to the frontier, like fencing and more railroads coming to the Southern and Western United States.
The history of cows and humans are interwoven.  Cattle and the products of cows have helped to sustain humans, change the American landscape, and both cure and cause disease. Like it or not looks like humans and cows and of course, Square Cow Movers, are in this together!
Image Source: en.wikipedia.org/wiki/File:UK_Durham_Dun-Cow.jpg
Original Source: https://squarecowmovers.com/a-short-history-of-cows-part-ii