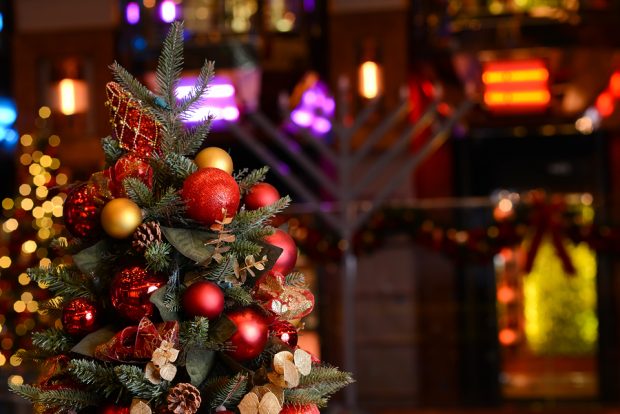 As moving experts, we specialize in moving what is most valuable to you!  Through the years (and after a lot of moves) we have developed a pretty good idea for what someone who has recently moved might like to receive as a gift.
Our herd prefers gifts like: alfalfa hay, corn, dry feed, etiquette manuals and clothing of the black white spotted variety; however, your friends and family members may prefer something a little different.  We love to serve and one of the ways we can help serve during the holiday season is by making your Christmas shopping a little easier with these gift ideas for someone who has recently moved!
Welcome Mat
This won't break the bank and you can find many different options to fit the style or humor of your friend or family member.  Welcome mats can match any decor, encourage guests to wipe their hooves, or tell a joke like, "Hi, I'm Mat".  You can even customize a welcome mat with a last name or initials.  A welcome mat could also make a great housewarming gift.
Tool Kit
This gift idea might be more ideal for younger folks just starting out, but even if the recipient is a seasoned homeowner, a toolkit is always useful!
Fire Extinguisher
This gift may seem strange, but if the safety of your loved one is important to you, than a fire extinguisher makes a lot of sense. It says, "I love you, please don't die in a fire…"  Fire extinguishers also expire, so this is a household item that occasionally needs to be replaced.
Coffee Mugs / Wine Glasses
A matching set of coffee mugs or wine glasses are a classic housewarming gift.  The recipient can use the mugs or glasses when entertaining.  Mugs and glasses are also items that can easily break or become misplaced, so a new set is always welcome.
Return Address Stamp
This gift may be a little more old-fashioned since many people communicate via email, but snail mail still gets sent.  If your loved one sends out Christmas cards, then a new address stamp would be an extremely appropriate gift.  The additional upside of giving a return address stamp to someone who has recently moved is that it is highly unlikely they already have one!.
Christmas Ornament
A Christmas ornament depicting a house or one with the year commemorating of a move will make a memorable keepsake. As your loved ones decorates a tree for the first time in their new home, they will think of you when adding their new Christmas ornament.
Best of luck with tackling the rest of your holiday shopping and have a wonderful holiday season!
Original Source: https://squarecowmovers.com/6-gift-ideas-someone-recently-moved/