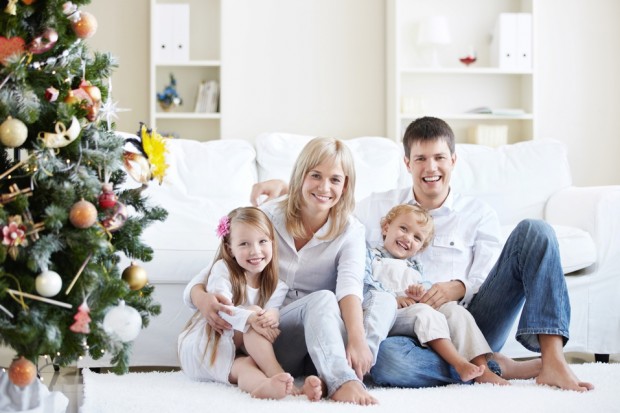 Your family may already have a few Christmas Eve traditions you partake in every year— some may even be on this list.  If you have moved to a new home, neighborhood, city or state, take advantage of the opportunity to start a new Christmas Eve tradition!  However, if you want to start some new Christmas Eve traditions, read on for inspiration.
Movie Time
There are so many different Christmas movies to choose from, you won't have a hard time finding one that fits your family.  You may have to resort to a movie marathon in order to watch everyone's favorite.  There are seminal works for each generation from It's a Wonderful Life to Miracle on 34th Street to A Charlie Brown Christmas, A Christmas Story and Elf.  You may need to watch a different Christmas movie every year on Christmas Eve.
Family Nativity 
Many families attend church on Christmas Eve, but you can still bring the nativity story home.  A great way to ensure that a message is understood is to let the student become the teacher.  Let the kids reenact the nativity for the adults.  Cousins and siblings can band together and create costumes and props from household items like bathrobes for wise men and fluffy bath mats for sheep.  A young sibling, doll, or pet (in a pinch) can play the all-important role of baby Jesus.
Santa and His Reindeer 
Christmas is about more than presents. Help your kids think of others by leaving a note and some snacks for Santa and his reindeer.  Preemptively thank Santa for the gifts and acknowledge the reindeer and Santa's hard work on Christmas night.  Milk and cookies are Santa's favorite, but the reindeer might appreciate some carrots (or so we hear).  After the little ones are in bed, take a few bites of Santa's snack and leave some flour coated Santa footprints.
Cheers to Christmas
A Christmas Eve drinks station complete with hot chocolate, apple cider, and peppermint candy cane stirrers will be well-received by all.  Don't forget extra marshmallows for the hot chocolate and some caramel sauce for the apple cider.
Just One Present…Please
With the excitement of Christmas morning so close, many families allow kids to open just one present on Christmas Eve.  The Christmas Eve present might be something like a pair of pajamas, a Christmas book to read, or a game the family can play together.  One early Christmas present may be a great way to start a new family Christmas tradition together.
What are your favorite Christmas Eve traditions? Share them with us!
Original Source: https://squarecowmovers.com/5-wonderful-chth-your-family/