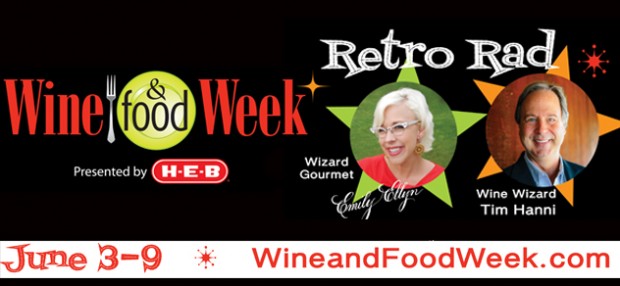 Wine and Food Week is more than just one event, in fact it includes fifteen events over the course of a week. The H-E-B Wine Walk and Sips, Suds & Sliders are just two highlights of Food and Wine Week. Over 10,000 guests will flock to The Woodlands to sample food provided by 50 restaurants and sip 500 different wines during Wine and Food Week.
Who could resist an event that appoints a "Wizard Gourmet and a "Wine Wizard? Wine and Food Week is starting to sound downright magical. Emily Ellyn, a Food Network Star Season Eight Finalist, will be serving as the "Wizard Gourmet" as she demonstrates her ability to transform old recipes into rad, relevant and delicious dishes. Ellyn will inject her signature retro style, while Tim Hanni, the Wine Wizard, balances out the quirkiness by setting a prestigious tone as one of only two American Master of Wine title holders. As an author and teacher he will contribute his unique wine knowledge by helping to educate guests about his innovations to the field.
Guests will not go hungry! An array of food samples and tiny desserts will help to counteract any negative side effects of trying copious amounts of wine. H-E-B, the renowned Texas grocery store, cleverly sponsored a week featuring two things almost every human loves, food and wine. With this great sponsor on hand, who could possible go hungry?
If that doesn't impress you perhaps some of the guests and food judges will! Food judges include: Ronnie Crocker, a writer for The Houston Chronicle, Anthony Chevalier, a University of Houston lecturer, John Demers, a Delicious Mischief talk radio host, Lori Moffat, a Texas Highways editor, Pat Sharpe, a Texas Monthly restaurant editor, and various other chefs, reporters and writers. Notable guests include chefs from various Houston restaurants, winery owners, and even a few guests from out of state.
Attending Wine and Food Week is a great way to gain some adult time with other grown-ups in your life, because people under 21 are not admitted to the majority of these events. Let the kids sit this one out and kick up your hooves for a night of responsible drinking on the town. Please do make sure you have a safe ride home if you do decide to drink. While we would love to pick you up in our Square Cow truck we prefer you arrange transportation beforehand.
Humans may think that cows chewing cud is a bit unsavory, perhaps even gross. However, if you are a wine connoisseur have you ever stopped to consider what a cow may think about a human spitting out wine into a spit bucket? We checked the FAQ section of the Wine and Food Week and there will be spit buckets there! So if you aren't a sophisticated wine connoisseur or the thought of spit buckets grosses you out, you may want to watch where you walk! Spit buckets aside, Wine and Food week is a series of events you won't want to miss.
For more information: http://www.wineandfoodweek.com