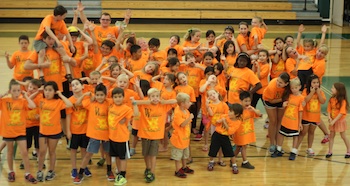 The word "warrior" may make you think of a highly skilled and trained fighter.  Someone who is not well acquainted with cattle, may think cows are only sweet and docile.  However, sometimes cows will fight to establish dominance.  The well-known Spanish tradition of bullfighting involves humans fighting cows, in Valais, Switzerland, cows fight cows in the traditional Swiss event, combats de reines or queen fights.  The wcow fights typically last about forty minutes. Unlike bullfighting which can be gory and even deadly, cows horns are blunted, so the event is mainly a pushing contest.  Sometimes cows refuse to engage in physical contact so a fight cannot occur.  Cows do not fight to the death, but cows that back away or stand down are eliminated.  The six best winners from seven districts advance to the grand final in Aproz.
Creating young "warriors" is not about training fighters, but equipping children with skills, compassion and values they will need for life.  Square Cow Movers values family, integrity, honesty and wants to support a camp that encourages young children to develop their character.   Warrior Camp is based on Christian principles but is open to the community and welcomes all children.
In our next installment of the Square Cow Summer Camp Series we want to feature The Woodlands Warrior Camp. The Warrior Camp is put on by The Woodlands Christian Academy and takes place on the beautiful campus of the school.   With almost thirty years of combined experience running camps, coaches Nate and Daysha Sanford will direct this eight week summer camp series.  The camp is staffed by qualified counselors, every counselor is CPR certified.  Counselors provide individualized attention by creating personal relationships with each child. While counselors are creative and responsible, child safety is the number one priority.
Warrior Camp is designed for elementary aged children from five to eleven years old (kindergarten through 5th grade).  Children will participate in a variety of fun-filled activities every day.  Activities range from recreational and cooperative games to arts and crafts to sports activities, academic components, swimming and field trips.  Every day will have a mixture of indoor and outdoor activities.  This way kids will have a chance to run off some energy outside and enjoy the fresh air, but also escape the heat and the summer sun.  Children will have the opportunity to deeply connect with their peers and make new friends.  Campers are divided by age and gender, so they can more easily relate to kids of the same age level.
Camp hours are from 8:00AM to 3:00PM, but Warrior Camp offers extended day hours from 7:30AM to 5:30 PM to help accommodate working parents with traditional 9 to 5 work hours.  On Tuesdays and Thursdays campers will go on field trips to fun and exciting places around Houston and The Woodlands such as The Children's Museum, roller skating, bowling, Pump It Up, etc.  On Mondays, Wednesdays and Fridays, campers will go swimming in community pools around the area. For more information: http://www.twca.net/page.cfm?p=726