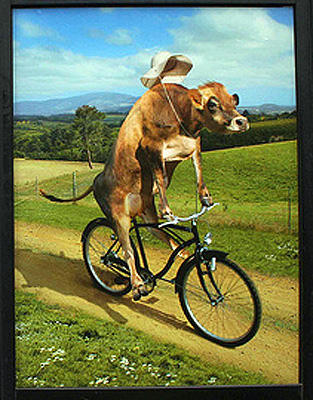 Not everyone has the great fortune of traveling via spotted Square Cow truck. If you can't ride in a Square Cow truck, here are 5 reasons why you should consider riding a bike and participating in Bike The Woodlands Day.
Environment – Bike riding helps to reduce air pollution, doesn't use fuel (saving you money), and reduces traffic congestion, leaving roads wide open for cows mooving around in our Square Cow trucks. 🙂
Community – While riding a bike you experience your surroundings in a different way and notice small details you didn't before. If you attend Bike The Woodlands Day on May 17, you will also have the opportunity to meet and talk with new friends and neighbors.
Health – While a rotund cow with a wide backside is ideal, we know that for humans being healthy and fit is important. A day of bike riding is just one step towards a healthy and balanced lifestyle that includes exercise.
Wealth – Think of all the money you could save on gas by riding your bike? We don't advise making a trip to Costco by bike, but a bike will suffice on a little ride to Starbucks, which is where everyone is meeting!
Variety -Shake things up! If variety is the spice of life, add double jalapeños and three times the habaneros to ours. You already drive everywhere, so make this Friday different by biking together as a family. The kids will really be surprised and they may even think you're cool (or embarrassing).
Where do you ride your bike? Tell us on Facebook!
For more information: http://www.bikethewoodlands.org