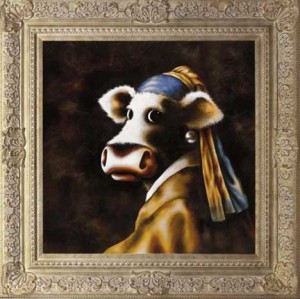 If your visual image of a cow is a heifer complacently chewing cud without a care, we have a MOOS FLASH for you! Cows are deeply insightful and emotionally complex creatures with a diversity of interests. One of those interests just happens to be supporting the arts.
Woodlands residents can help us in our moo-vement to support the arts by visiting the A.I. Altered Identity Art Exhibit currently on display in the Mary Matteson-Parrish Art Gallery in the Performing Arts Center of Lone Star College-Montgomery. While everyone may not be as savvy as a bovine (harrumph), we are sure all can appreciate the modern aesthetic of this exhibit. Jeremy Newton, the creator of the exhibit, is a conceptual artist.
Newton has re-envisioned common materials in new shapes and forms as a commentary on the relationship between an object's make-up and the physical shape it takes. The artist encourages visitors to view these materials in a new context of lines, shapes, forms, or images.
If you have no idea what we just said, but are still reading this, we have two words for you "giant staple". While we aren't sure exactly how big, we know that as a Houston moving company, we can handle a big staple (but nobody has asked us to move one, yet). You will see works of art made out of common materials such as staples and eraser shavings, but they will be put into new shapes. Do yourself a favor and go have an elevated artistic experience at the A.I. Exhibit! For more information: http://www.lonestar.edu/news/21013.htm