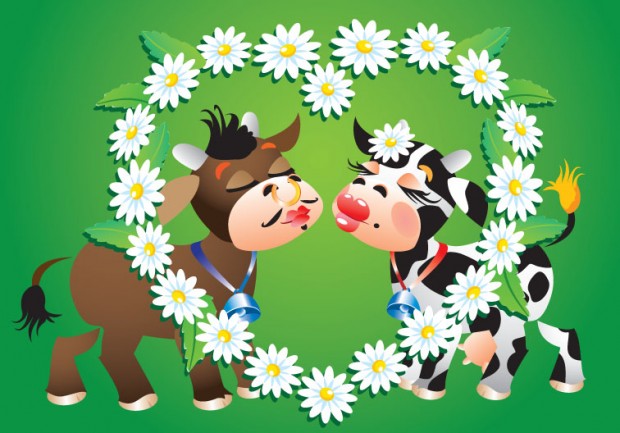 Happy Friday the 13th, or day before Valentine's Day!  If you dared to get out of bed today, whether you are frightened by the unlucky date or the impending cost of Valentine's Day, we commend you.  If you haven't prepared for Valentine's Day, don't panic. Skip the red roses, chocolate hearts and the expense with some of these ideas that don't cost a lot of moo-la.
Recreate the first meal you ever ate together.
Rent or buy the first movie you two ever watched together and have your own private screening in the living room.
Have an indoor picnic.  You eat at the table every other day of the year, so move your meal to a blanket on the floor.  If you use paper plates, you won't have to do the dishes!
Just dessert.  Have dinner in and splurge on dessert at a fancy restaurant.
Plan a vacation.  We all know that the best part is actually going on vacation, but great vacations take some work to plan.  This time next year you could be going on that vacation together, but use the day to plan out your vacation: where you will stay, the meals you will eat, what sites you will see, etc.  Your time spent daydreaming will give you motivation to save for your vacation throughout the next few months.
Create an experience jar. Write activities you have been wanting to do, like plant a vegetable garden or try a certain restaurant, on Popsicle sticks. Place the Popsicle sticks in a jar with the unmarked ends sticking up.  Throughout the year when you are ready to do something together, pull out a Popsicle stick for a new experience.
Go on a scavenger hunt. Whether you plan a scavenger hunt through your home, a park or the entire town, choose spots and clues that are meaningful to you and your Valentine.
Create a top ten list for each other. Who doesn't love a compliment or 10?  This will also help you focus on all the reasons why you appreciate your significant other.
Become tourists in your own city.  Visit all the attractions and sites you haven't had the time to see.  Don't forget to take photos along the way!
Do something outdoors. Go for a walk, a hike, a bike ride or even fly a kite.  Valentine's Day is on Saturday, so you have the opportunity to spend some of it outdoors.
Happy Valentine's Day!
Image: http://www.ingimage.com/imagedetails/73027014_extInt0/ING_37032_00594-Ingimage-contributors-Cartoon-kissing-cows-and-camomile-border.html
Original Source: https://squarecowmovers.com/valentines-day-dates-gifts-that-dont-cost-a-lot-of-moo-la/