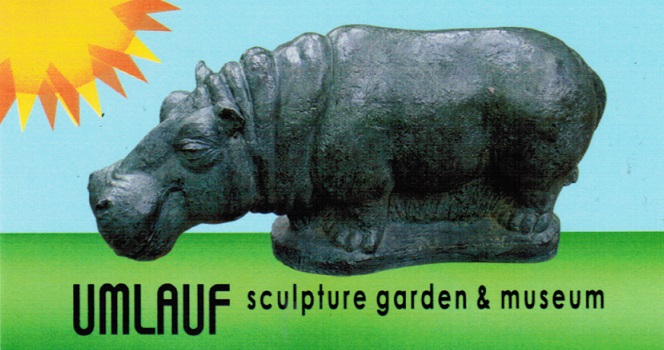 Another undervalued Austin gem that we would like to highlight is the Umlauf Sculpture Garden. It is also the perfect time to spotlight this Austin attraction because this week we celebrate Charles Umlauf's birthday! The American sculptor would have turned 102 on July 17th.
Born in Michigan on a farm in 1911 to French and German immigrant parents, Umlauf was the sixth of eight children. After the family moved to Chicago, Umlauf's 4th grade teacher noticed his artistic inclinations and encouraged him to attend a summer scholarship program at the Art Institute of Chicago. Umlauf graduated from high school and continued his higher education at the Chicago Art Institute and the Chicago School of Sculpture. In 1937 he married fellow student Angeline Allen.
We discussed Umlauf's background in Michigan and Chicago, but we know you are waiting for us to mention Austin. Hold on to your horses, that part of the story is coming next. Umlauf is relevant to Austin because in 1941 the new College of Fine Arts at the University of Texas offered Umlauf the position of instructor in sculpture. This gave Umlauf the opportunity to work on his own art while supporting his family by teaching. Umlauf taught at the University of Texas for 40 years before retiring as professor emeritus in 1981.
In 1985 Charles and Angeline Umlauf donated their home, studio and over 150 works of art to the City of Austin to serve as a public museum and sculpture garden. The Umlauf Sculpture Garden and Museum was founded in 1991. Umlauf's work depicts a range of subjects including: family groupings (especially mothers and children), religious and mythological figures, delightful animals and sensuous nudes. He worked in a diverse range of materials from terra cotta to exotic woods to cast stone, rich bronzes, alabasters and marbles. The works of this artist can be seen at the Smithsonian Institution in Washington D.C., the Metropolitan Museum of Art in New York City and in various public places throughout Texas. There are more sculptures by Umlauf in Texas public spaces than any other sculptor.
The Umlauf Sculpture Garden and Museum offers a unique experience because visitors, especially children and the visually impaired, can touch the works of art! The bronze sculptures are coated with wax so that they are touchable. The wax protects the bronze from being damaged by the natural salts and oils on human fingers. The Umlauf Sculpture Garden and Museum has the largest touchable outdoor collection in Texas!
Generous donations from the community through I l Live Here, I Give Here and Amplify Austin have made it possible for the Umlauf Sculpture Garden and Museum to offer free admission to the public all summer, from June through August 31, 2013. The Museum is open Wednesday through Friday from 10 AM to 4Pm and Saturday and Sunday from 12PM to 4PM. Please take note when planning a visit that the Museum is closed to the public on Mondays and Tuesdays. Take advantage of the free admission to explore this unique Austin treasure with your family. For more information: http://umlaufsculpture.org/