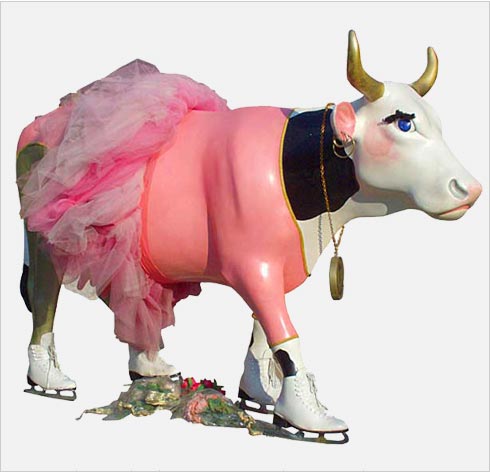 Stepping outside in July in Texas is like being bathed by 58 cows roughly licking you with their tongues. In both instances you are left sticky, wet, uncomfortable and nowhere near clean. You may also end up with a cow lick or two. The heat and sun oppressively bear down on you like those 58 cow tongues. Despite our unpleasant analogy, we get the feeling that you know what we mean. Close you eyes for a second and imagine the exact opposite of a hot Texas summer day. Think of icicles, igloos, penguins and the feeling of cool, hard ice. Would you believe us if we told you such a place existed right here in Austin?
A short journey to North Austin will magically transport you to an eternal oasis of ice, present even during the peak of summer. Chaparral Ice at Northcross Mall offers Friday Night Public Skating every Friday from April until November. Friday night skating includes: on-ice games, raffles, pizza and skating to the latest music.
In July, Chaparral Ice is giving new skaters an extra incentive to come out on Friday nights. Starting July 5, Friday night public sessions are now free for Learn to Skate students. Beginning skaters can get some bonus practice time in for no charge. Learn to Skate students simply have to present their Learn to Skate class card to receive a free skate rental and free admission. Friends of Learn to Skate students can also benefit this summer! Bring a friend and he or she will receive half-price skating. This offer is valid until the end of summer, August 30.
If you can't make it out to Chaparral Ice this Friday, July 5th (we understand that the 4th of July weekend can be busy), save a space on your calendar for Friday, July 19th. In two weeks there will be a 50s Sock Hop at Chaparral Ice. Get ready to "Skate, Rattle and Roll" from 6:30 to 9:30 PM. Leather jackets, rolled up sleeves, poodle skirts and fabulous 50s fashions are encouraged. Music from the 50s will be playing all night so skaters can practice dancing the hand jive and the twist. If you are secretly an expert at hula hooping, you stand a good chance at winning the hula hoop contest. We are personally big fans of the 50s because everything was black and white back then.
When swimming at the pool, playing at the park, running through the sprinklers, and water balloon / water gun fights grow old, herd the calves on over to the ice! Enjoy the novelty of digging out winter hats, scarves and gloves in midsummer to protect yourself against the chill of Chaparral Ice. As an added bonus you will have to only rent one pair of skates for each family member! Ice skating for cows can get pricey you know, as each cow needs two pairs of skates. We really should inquire about a discount for the four-legged. Cows even require extra lessons when learning to skate. Contrary to popular opinion, every cow cannot perfectly perform a triple sal cow…
For more information: http://do512.com/event/weekly/fri/friday-night-public-skating