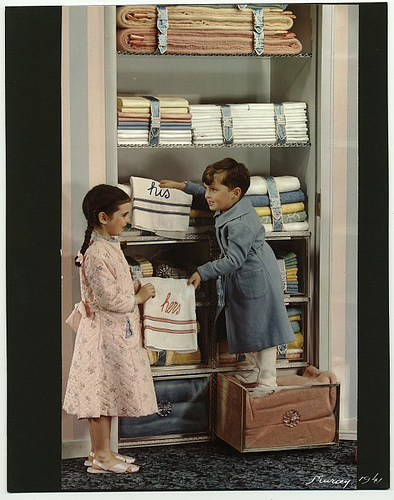 Before moving to a new place, you probably opened all the closet doors to see exactly what kind of space you will be working with.  Extra closet space is sought after and always appreciated.  The linen closet in your home may not lead to a magical world like Narnia, but somehow washcloths go missing and after you close the door everything instantly turns into a disarray of wadded up material.  Whether you are moving to a new home or just simply want to organize your linen closet, here are some tips and tricks for a getting a handle on all those linens.
Color Code – At our house we used to have a system for organizing our towels that went like this: the old, old, old towels were used for cleaning the house, the old, old, towels were used for cleaning the dog, the old towels were for the kids, the regular towels were for the parents and the new towels were for guests (and all the towels were varying shades of white from dingy to pristine).  To simplify your life buy towels of a different color for each bathroom. For instance, the towels in the master bath are grey, the kid's bathroom is decorated in blue and the guest towels are green.  *If you have teenagers, white is a good color choice because many acne medications contain benzoyl peroxide or agents that can bleach colored towels.  (We learned about this the hard way!)
Keep the Plastic – When you buy a new set of sheets, pillows, a comforter, or duvet, it usually comes in a clear plastic bag with a nifty zipper or snaps. ALWAYS keep the plastic bags your linens come in.  Wash one sheet set and then store everything together in one plastic bag, this is a great way to keep an entire set together and contained. If you don't have plastic bags, you can also store a set of sheets in its matching pillowcase!
You Don't Have to Keep Everything in the Linen Closet – This may come as a shock to you, but not everything has to go in the closet that is specifically for linen.  If you have a queen-sized bed in the guest bedroom, keep the queen-sized sheets in the closet of the guest bedroom.  Then when you are ready to change the sheets they are immediately on hand.  If you have company in town and they are feeling extra helpful and would like to go ahead and change the sheets for you, they won't have too far to look.  If for some reason your guests need to quickly change the sheets in the middle of the night, they won't have to go fumbling around your hall looking for the linen closet.  The twin-sized sheets for your kids' beds can also be kept in their respective rooms.
Adjustable Shelves – If you have the option, installing adjustable shelves will give you a plethora of choices for organizing your linen closet.  This way your closet can grow and change with your family.