A sibling can be your best friend as well as your closest relative. You may have grown up together sharing a bedroom, and just like the good 'ole days, moving a sibling into your home as an adult can be fun and stressful at the same time.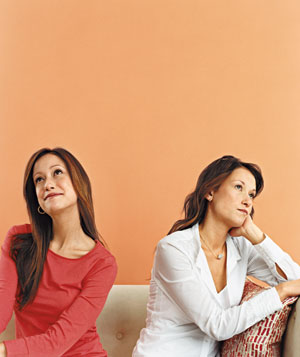 Helping a sis or bro out doesn't mean you should be a doormat. And even though you may be close to them that doesn't mean your significant other is. It may be a balancing act, but it is possible to move a sibling into your home without straining relationships.
Sharing Stuff in the Home
You share DNA with your siblings, but that doesn't mean they should have free rein to everything. Now that you're adults sharing isn't as important as your parents made it out to be when you were kids. It's important to understand some things should remain yours while others should be shared by everyone.
What Should Be Shared:
The chores
Groceries
Fridge space
Community spaces like the living room
Downtime
What Shouldn't Be Shared:
Private spaces like the master bedroom and bath
Your vehicle (unless you give them permission)
Details about arguments with your live-in significant other
Your life savings
It's one thing to help a sibling out, it's quite another to drain your bank account. If the situation is starting to put a strain on your finances it's time to speak up and let your sibling know that things have to change.
Avoid Emotional Pitfalls
Because we are so close to our siblings, oftentimes it's hard to censor ourselves. We also grow up learning their every little quirk and have years worth of baggage.
It's important to keep in mind that more and more people are moving in with a sibling because of tumultuous times in his or her life – most commonly because of financial trouble or divorce. Be there for your sibling but don't let them take everything out on you.
Fighting – Let the little things go, but be direct if your sibling is starting trouble, being unappreciative or hurting your feelings. Instead of getting heated, diffuse the situation with an adult conversation. If things don't change, the living situation will have to.
Competitiveness – Sibling rivalry is common even as adults. Be careful not to lord the situation over your sibling and be sensitive to the fact that their ego may be hurting.
Jealousy – If your sibling is acting snooty or jealous take it in stride. Right now you're in the position they would rather be in so it's understandable that they may act that way. If it gets out of hand let them know it's making you feel uncomfortable.
Don't Bring Your Parents Into It – Now that you're adults you should solve disagreements yourselves. If you bring your parents into the situation it can just strain things further by making it seem like they are taking a side.
Have an Exit Strategy
When moving any family member into your home, it's important to have an exit strategy that's agreed to upfront by everyone. You need to have a good understanding of what his or her current situation is like and what steps your sibling is taking to get back on his or her feet again. That way you can keep your sibling accountable and help him or her out any way you can.
Make it clear that shacking up together forever isn't an option. Set goals that will be met to get him out on his own again. Having a plan in place will make the situation a lot less stressful.
Have a sibling roommate story of your own? Share it with us on the Square Cow Movers Facebook page.
Image Source: img4-3.realsimple.timeinc.net/images/1104/2_women_sitting_on_couch_300.jpg
Original Source: https://squarecowmovers.com/moving-a-sibling-into-your-home