Now that all your possessions have been packed away in boxes, the movers have done their job and you're settled in to your new home all that is left now is to sell your home. However now that your home is empty, it can make it tougher to sell. In many cases, empty homes often go unsold for longer periods of time and end up selling for less than a home that has been properly staged and prepared for a good sell. Use the following tips for increasing your homes resale value after you move out and you'll be sure that you get the most profit possible when you're selling your home.
Maintenance
The first step to staging your home to make it sell faster and for more money is to clean up any problem areas and perform routine maintenance to keep the property and house in its best-selling condition. Cleaning all the gutters, trimming the hedges and pressure washing the driveway are all great ways to keep your home looking good for the resale.
Home Improvements
Keeping it clean and neat might be enough to help make the sale, but it will do nothing for the resale value of the home. Take a look at your old home from a seller's point of view: Could your Austin or Houston home benefit from replacement windows? Does the house need a new coat of paint? Is the landscaping detracting from the home? Does the roof need to be replaced? Will new appliances help make the kitchen space look irresistible?
You may want to consider hiring a home inspector to get a good idea at what home features need the most help to ensure you sell your home for more. Whether you install new windows or a add a perfect concrete paved sidewalk in The Woodlands area, minor home improvements can go a long way to helping provide a good return on your home improvement investment.
Furniture
Once the home is clean and updated, furniture can help complete the home staging process. Many homes lack the selling point of simple furniture and a lived in look. This can help potential home buyers get a feel for how the home might look with their furniture in place. But before you begin stacking in the sofas and chairs; be sure that you keep your furniture home staging process limited to a few pieces of furniture. Giving it a lived in look without making it feel cluttered can be difficult at best.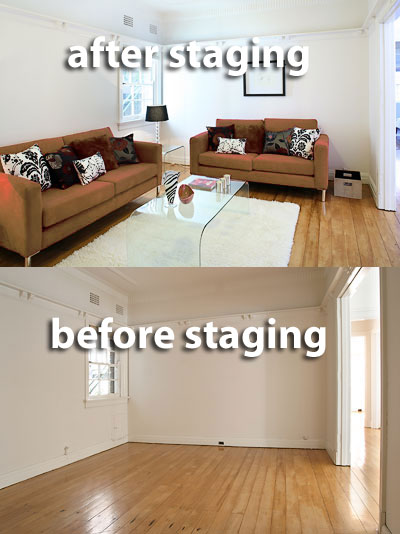 Accessories
With the addition of the right home accessories, you can easily gain selling points and increase the overall resale value of the home. While this home staging process is designed to help the home feel more livable; you don't want to take it overboard and make it too personalized. Remove any photos of you and your family, keep away from using your favorite colors to decorate and try to keep the tone of each room as neutral as possible. By making the home feel welcoming for a family without actually making it look like a family lives there can help you sell your home quicker and for a better profit.