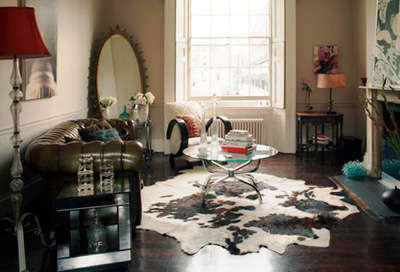 Making your new place feel like home can be difficult when you are renting.  You may not be able to make more permanent changes or even paint the walls. In a rental you will often have to live with some features that may not be your favorites.  Here are some tips on how can you make a rental property feel like home through subtle and non permanent decor.
Mirrors Are Magic – Mirrors can make any space look and feel bigger!  Luckily, mirrors can be found in a plethora of shapes and sizes and can be acquired for a reasonable price.
Paint It – We have already gone over how many owners may not allow you to paint your rental property, but have you considered painting your furniture?  Paint your old scratched up white desk hot pink and see how it transforms a room.
Cover It Up – If tile isn't your favorite flooring or there is a particularly unsightly stain on the carpet, an area rug (large or small) can become your new favorite feature.  When it's time to move, simply roll up the rug and go.
Curtains, Curtains, Curtains – By layering curtains or hanging up two or even three sets you can create the illusion of a bigger window or cover up walls that you can't paint or wallpaper.
Do you have any tips or tricks for decorating a rental property?  Share them with us on Facebook!