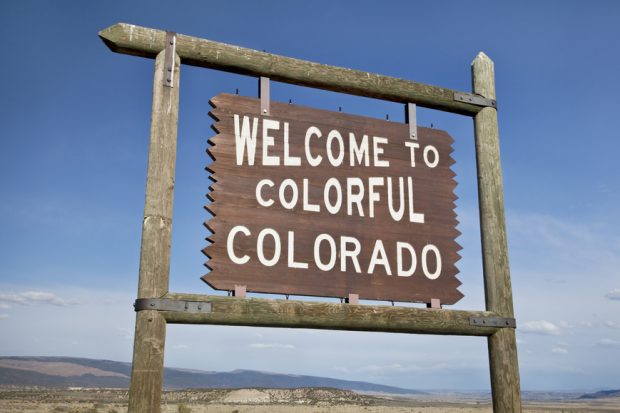 Who says you have to head to the beach for Spring Break? We cows think there are plenty of amazing spring vacation destinations right in our own backyard. Whether you're looking for a little R&R after moving to Denver or your family wants to take a getaway without draining the bank, a Colorado staycation is exactly what you need.
Outdoor Lovers: Colorado National Monument
The name alone should prompt residents to make the trek to Colorado National Monument. There are so many parks in Colorado seeing them all would extend well past Spring Break. But Colorado National Monument is a must-see because it offers some of the most spectacular views in the state and a rugged landscape that's reminiscent of the Grand Canyon.
Drive to the western part of the state past Grand Junction and pitch a tent at the Saddlehorn Campground. You can wake each morning to watch the rising sun shine against the massive rock formations. After breakfast take the 23-mile drive around the red rock canyons or hike through them on one of 14 trails. Have extra time to kill? Drive a little further west and you'll be able to see the Moab Dessert during your trip.
Families With Curious Kids: Dinosaur National Monument
Use your Spring Break to fulfill all of your childhood archeology dreams. Kids of all ages are mesmerized by the thousands of fossils on display at the Dinosaur National Monument.
This national park is so big it actually spans into Utah. Within the park you'll find the Quarry Exhibit Hall, a cliff face with more than 1,500 dinosaur fossils. You can explore the park on your own or go on a guided tour with a ranger who can explain the science and history behind the artifacts. There are also opportunities to go whitewater rafting and boating through the canyons.
Craft Brew Lovers: Brewery Tours in Fort Collins
Beer-lovnig Spring Breakers that are looking for a fun time without the noisy crowds may want to plan a Fort Collins staycation. Fort Collins has quickly made a name for itself as one of the frontrunners of craft beer in Colorado.
Even though the city has a population of just 152,000 there are 24 breweries in town. That's more than 10% of the state's breweries all within five miles. And there are just about as many ways to get an authentic Fort Collins brewery experience.
New Belgium Brewing Company is one of the country's flagship craft breweries. A red bike is an iconic symbol for the brewery, so of course a brewery bike tour fits the bill perfectly. Beer & Bike Tours offers a Brew Cruise when the weather permits, but it's just one of many options. Rain or shine you can hop on one of the Magic Bus's craft brewery tours for a behind the scenes look at how local beers are made.
Winter Sport Diehards: Steamboat Springs
Enjoy the last bit of powder for the year at Steamboat Springs. This quiet resort town offers nearly every winter activity you can think of, plus a great selection of shops, restaurants and bars to visit when you aren't hitting the slopes. Feeling really adventurous? You can get a bird's eye view of Steamboat Springs in a hot air balloon when the weather conditions are right.
Urban Explorers: Nature Centers and Museums in Denver
You don't have to go far to find a peaceful outdoor escape near Denver. Within the city and the surrounding area there are a number of nature centers and museums to explore. Some of our top picks include:
Majestic View Nature Center
Morrison Nature Center
Rocky Mountain Arsenal Wildlife Refuge
Littleton Museum
Four Mile Historic Part
Museum of Outdoor Arts
University of Colorado Museum of Natural History
Of course, the Denver Zoo is another popular attraction that could fill an entire day of your staycation.
Moving can be a very time-consuming process that cuts into your Spring Break fun. If you're moving to Colorado let Square Cow Movers do the heavy lifting for you! We offer a full-suite of moving services including professional packing services and long-distance moves. Fill out our online form for an instant moving quote!
Original Source: https://squarecowmovers.com/colorado-staycations-ideas-warmer-weather/