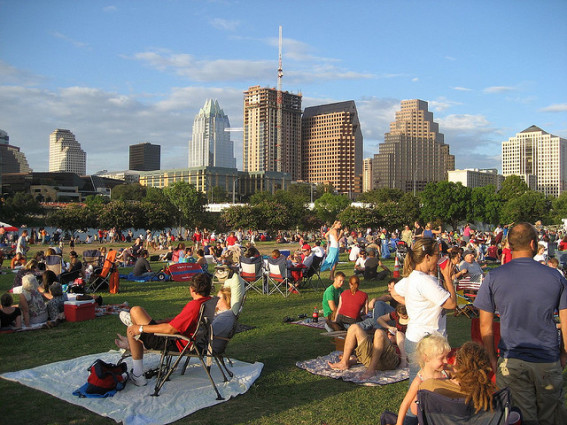 Are you thinking about moving to Texas? Then your decision could end up being influenced by the cool factor. It's a new quotient that's being used to gauge which U.S. cities are attracting the most residents.
What is the City Cool Factor?
Cities are analyzed all the time for their cost of living, economy, or weather – but never before has "coolness" been the key factor. Recently Forbes teamed up with Sperling's BestPlaces to find a way to measure the coolness of the 60 largest U.S. metros.
They identified six categories that were weighed somewhat equally:
Entertainment Options Per Capita
Number of Local Restaurants and Bars
Population Growth (the popularity contest factor)
Age of a City's Population (favoring the 20-34 age range)
New Migration of the Population
Cultural Makeup
These factors are meant to measure interest and desirability of a city – two major indicators of cool. Looking at how much the population has grown and if it's from new people moving into town indicates that something is drawing people to the area. Entertainment, food and cultural makeup help reveal how interesting things will be once you actually move.
Some people might think that ranking coolness is a bunch of nonsense, but it can have a serious impact on growth. Millennials in particular are on the move, and the idea of living in a cool place is a top priority. An influx of Millennials has a significant effect on the workforce and housing market, which is already being seen in many cities.
How Texas Ranks on the City Cool Scale
It turns out Texas is a really cool place to live. In Forbes' list of the Coolest American Cities three Texas metros made an appearance in the top 10.
#3 – Austin
It comes as no surprise that our hometown Austin is the coolest city in the Lone Star State. Austin has been considered an epitome of cool for decades. The Keep Austin Weird mentality sets the stage for creative venues, entertainment options and interesting culinary experiences. It also helps that the University of Texas is located in Austin, which pushed the population age factor higher than the top two cities.
Only Washington, D.C. and Seattle were rated as a cooler place to live. But we argue that if you measure the coolness factor during the winter Austin will have the edge on those colder cities.
#4 – Houston
H-town took a respectable fourth place in the coolness list. It used to be seen as just the oil capital of the country, but today it's diversifying. The intertwined cultural makeup (higher than the top three cities) and local restaurants categories definitely boosted Houston's position. The city's diverse population has led to an amazing mix of restaurants that are innovative and authentic at the same time. Arts and recreation was also a respectable 91 on the index.
#10 – Dallas/Fort Worth
Dallas may be in the tenth spot, but it scored well across all of the categories. The abundant arts scene is what really helped Dallas/Fort Worth solidify its spot in the top 10. With an index score of 95, it is right up there with the top ranking cities. It also had a strong net migration of 3.9%.
Honorable Mention: #15 San Antonio
It's worth noting that San Antonio was in the top 20. However, many Texas natives will argue that it's rich history and culture should have landed it higher on the list.
No matter what cool Texas city you're moving to Square Cow Movers can help you get there! We have movers in North Austin, South Austin, Houston, and North Dallas that can help you relocate anywhere or move within the cities.
Original Source: https://squarecowmovers.com/texas-cities-coolest-matters/