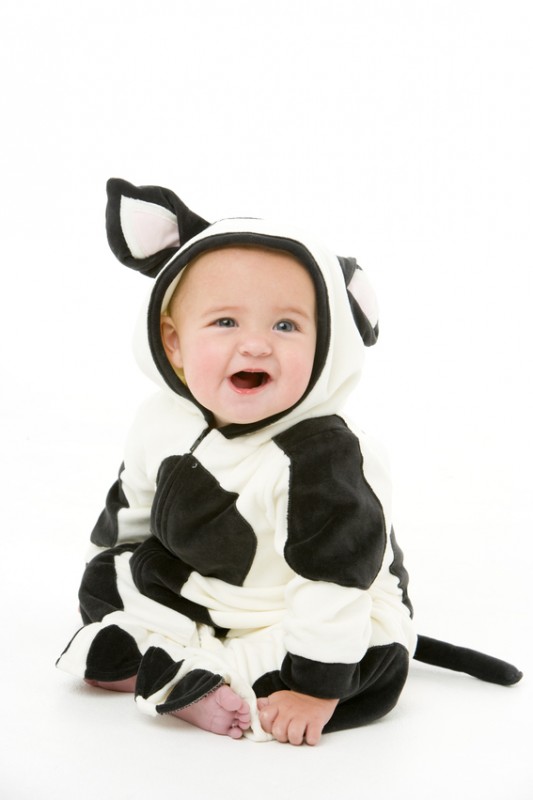 Dress for the job you want, not the job you have.  That's why we think everyone should dress up as cows, because mooving is life.  If you can't be a cow all the time, you can do the next best thing and dress as a cow for Halloween!  It's no secret that we love cow costumes, we wrote one blog about crafting cow costumes and another one about why people love dressing like cows.
Cow costumes are appealing because the black and white spots stand out and it's easy for others to identify what animal you are imitating! It's not hard to come by the materials or instructions for creating a cow costume either.  Thanks to school plays featuring barnyard animals and Chick-fil-A's "Cow Appreciation Day"there are numerous guides for making easy and affordable cow costumes.
We wouldn't want any member of your family, no matter their age, to miss out on dressing like a cow for Halloween! We rounded up our favorite cow costumes for all ages.
Baby Cow Costume – This cow costume for a baby even has an udder made from baby bottle nipples.  Adorable.
Toddler Cow Costume – Make this toddler cow costume using a man's large crew neck shirt to create the white base for a jumpsuit.  An ear warmer can be turned into horns and ears.
Child's Cow Costume – This costume could easily be adapted into an adult cow costume.  The costume is made from a t-shirt and a white hat.  A braided yarn tail tucked into shorts or pants completes the look.
Teen Girl's Cow Costume – An oversized long sleeve shirt can be made into a spotted tunic worn over black leggings.  Braided pigtails are the finishing touch.
Adult Female Cow Costume  – Most women already have a white t-shirt and black leggings in their closets.  These items form the base for the cow costume in this tutorial.
Adult Male Cow Costume – These instructions aren't specifically for an adult male cow costume, but could be used to make a cow costume for a person of any age!
We hope you can now prepare your herd of all ages for an udderly fantastic Halloween!
Original Source: https://squarecowmovers.com/cow-costumes-for-all-ages/