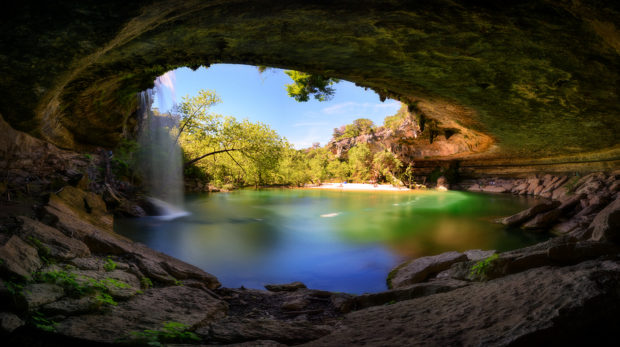 Most of the lakes in Texas are man-made, but boy did we do a good job. Between the lakes and springs created by Mother Nature, Central Texas is full of local swimming holes.
After a long day of moving in Austin, our crew likes to beat the summer heat at one of these cool swimming spots.
Barton Springs
2201 Barton Springs Rd.
Austin, TX 78704
When it's 100 degrees outside you can always count on Barton Springs to provide a cool retreat from the heat. Barton Springs is a naturally fed watering hole inside of Zilker Park in downtown Austin. However, you'd never know how close you are to downtown once you're there.
There are two ways to enjoy Barton Springs. If you want an old-school public swimming pool experience complete with a spring diving board, Barton Springs Pool is the answer. For dog owners and kayakers, there's also Barking Springs. Located right next to Barton Springs Pool, Barking Springs features shady spots for a picnic and a mini waterfall from the spillover of the pool. There's also no entry fee at this au natural portion of the spring.
Hamilton Pool
24300 Hamilton Pool Rd.
Dripping Spgs, TX 78620
During most of the year, the hidden watering hole known as Hamilton Pool Preserve is open to the public for swimming. The cool blue water of the pool is a big draw, but the 50 ft waterfall pouring down the limestone cliffside is the real showstopper.
Hamilton Pool is an iconic spot, which means it can get busy. Reservations are required every day from January to October. In November and December, reservations are required on the weekend only. Pack light, bring water and wear sturdy shoes. It's a trek to get down to the pool, but the hike is worth it. Also, you'll have to leave Fido at home since dogs aren't allowed.
Comal River
New Braunfels, TX
Every person living in Central Texas has to float the Comal River at some point. It's basically a rite of passage for the college students attending Texas State University right up the road, but it's also a great time for families.
The Comal River is the shortest navigable river in the state. You can bring your own tube or rent a tub from one of many river rafting companies. Be aware that there are noise ordinances so you may want to leave the boombox at home, and no glass or styrofoam is allowed. Also, if there are heavy rains the recreational area of Comal River may be closed. Once you're done, you can enjoy the river-fed rides at nearby Schlitterbahn.
Windy Point
6506 Bob Wentz Park Rd
Austin, TX
You don't have to drive hours to the Gulf Coast to find sandy beaches. Windy Point is a park on Lake Travis that features hundreds of feet of white sandy beach along the water. There are also picnic areas complete with grills and a campground if you want to make a weekend of it. You'll get great views of the lake and endless outdoor entertainment.
Windy Point Park is also one of the top watering holes for scuba divers and windsurfers.
Bull Creek
6701 Lakewood Dr
Austin, TX 78731
Bull Creek Park is another spot where you can find a dog-friendly swimming hole. At the north end of the park, there's a small pool where the creek water runs down a ledge creating a short waterfall. Once you're done taking a dip you can hit the trails to dry off. Currently, the city is implementing a redevelopment plan to add a fountain and other features.
Hiring Square Cow Movers for your move to Central Texas is a surefire way to beat the heat this spring and summer. Our crew can handle the move so you can start exploring the local watering holes. Give us a call or use the online form to receive an instant moving quote!
Original Source: https://squarecowmovers.com/staying-cool-central-texas-best-swimming-holes/