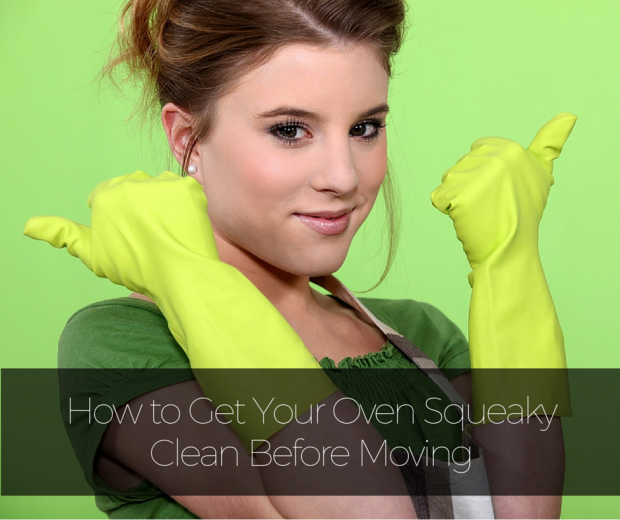 Whenever it's time to move, that means one thing – cleaning, cleaning, cleaning. Whether you are renting or selling your home, every nook and cranny has to be squeaky clean before you leave. One place that many people accidentally overlook is the oven.
If you've never cleaned an oven it can be a confusing task, but the tips below can help make the job a lot easier.
Know Your Oven
Before you begin cleaning, find out what type of oven you have. We're not talking about just gas or electric. For decades there have been a wide variety of ovens on the market. They include self-cleaning ovens, continuous cleaning ovens, convection ovens and plain 'ole regular cooking ovens.
Hopefully you've still got the owners manual, which will let you know the oven type. If not, look at the model number to find out what you're working with.
Self-Cleaning Ovens
These aren't quite what they seem. You set it to cleaning mode and the oven will use extreme heat or steam to loosen the built up, baked-in food. However, you'll still need to clean out the mess, it will just take less elbow grease. You'll also want to wipe out as much as of the mess as possible before using the self-cleaning function. It's not always recommended to use the self-cleaning mode for easy jobs, because the high temps can actually cause an oven to blow a fuse or the panel to go out. The older the oven is, the more the self-cleaning cycle is used and the longer it runs, the more likely it is that you'll run into an issue. Self-cleaning does have its benefits, like getting the hardest to reach spots, but whenever possible it's always best to do it yourself when you have an older, heavily used appliance.
Continuous Cleaning Ovens
The idea behind these ovens is that each time you cook you're cleaning. This is possible because the textured surface helps to burn off residue. All it takes to completely remove the build up is a damp washcloth. It's important to stay away from abrasive cleaners and cleaning tools that could scratch up the finish of the oven.
Cleaning with Natural Cleaners
Many people prefer to use natural cleaners instead of chemicals since food is prepared in ovens. Fortunately, there are a number of options for getting your oven cleaned without using chemicals.
Baking Soda – If you have a non-self cleaning oven baking soda is a good option for cleaning things up.
Liquid Detergent – The same soap you use to wash your dishes can be used to clean out your oven.
Vinegar – This power cleaner works in the oven as well as it does out of the oven.
Getting Rid of Tough to Clean Grime
If you haven't cleaned your oven in a while (or ever) there's a good chance the mess has baked in. It can be easier to get built-up grime clean by first warming the oven up. Set the oven to the lowest temperature for a short period of time then turn it off. This will help to work things loose.
When you need to clean a self-cleaning oven ammonia can get the job done. First warm the oven up, shut it off then leave a bowl of ammonia on the top shelve and boiling water on the bottom shelf of the oven overnight. The next day add a little bit of ammonia to a quart of water and a little dish soap to finish cleaning things up.
The grates are one spot where residue can build up the worst. When that's a problem, try soaking the grates in soapy water in the tub. If you have oily residue and grime, baking soda is also a good cleaning product.
We don't clean ovens, but our professional movers can do a heck of a good job getting you packed up and moved into your next home. We can handle the moving so you have time for the cleaning. Use our online form to get an instant moving quote!
Original Source: https://squarecowmovers.com/how-to-get-your-oven-squeaky-clean-before-moving/