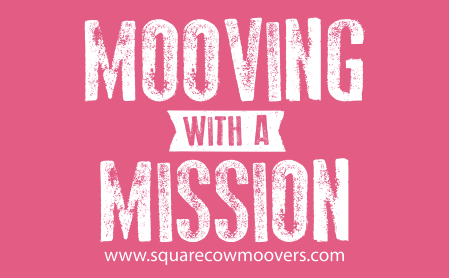 Breast Cancer Awareness Month is a cause that's close to our hearts here at Square Cow Movers. Donna Lombard, mom of one of the owners and wife of another owner is a breast cancer survivor that fully understands how the support of so many people can be a life changer. The whole Square Cow Movers family is proud to wear pink during October, and we're happy to share the story of how pink came to be the color of hope.
How Pink Became the Symbol of Hope and Health
Today the color pink, especially pink ribbons, is a strong symbol of breast cancer awareness and the fight to find a cure against the disease. It is used all around the globe, bringing emphasis to the cause across countries, cultures and languages.
Ribbons became popular as a symbol of support in the 1990s. It was then that the yellow ribbon became a sign of support for the military during the Gulf War. Soon after a red ribbon became the symbol of passion and hope in the fight against AIDS. These simple pins spoke volumes to people across the world cementing their place in activism and awareness for all causes.
It's worth noting that the first breast cancer ribbon wasn't actually pink. It was a light peach color. In 1991 Charlotte Haley was a grassroots activist and breast cancer survivor that was trying to raise awareness about the lack of federal funding for cancer prevention. She sent out thousands of cards with the peach ribbons attached, and her message ended up striking a cord.
Just months before at the end of 1990 the Susan G. Komen Breast Cancer Foundation began incorporating pink into their cause by handing out pink visors to women who participating in Race for the Cure races. Then in the fall of 1991, after ribbons were successfully raising awareness for military support and the struggle against AIDS, the foundation began handing out pink ribbons during their New York City race.
The Susan G. Komen Breast Cancer Foundation was the first to begin using pink as a symbol, but they actually weren't the ones to popularize it. That happened in 1992 when Self Magazine teamed up with Estee Lauder.
Self Magazine and Estee Lauder Make Pink Ribbons Mainstream
In 1991 Self Magazine created their inaugural Breast Cancer Awareness Month issue, in which they featured guest editor Evelyn Lauder. Not only was Ms. Lauder the Senior Corporate VP of cosmetic giant Estee Lauder, she was also a breast cancer survivor. When it came time to make the second annual issue in 1992 Self Magazine editor-in-chief Alexandra Penney reached out to Ms. Lauder once again.
Ms. Penney wanted to do a ribbon to symbolize the cause, and Evelyn Lauder was completely on board with handing out the ribbons at Estee Lauder counters across the country. At that time they were unaware of Ms. Haley's grassroots campaign. As luck would have it, shortly after Ms. Penney did learn about Hayley's peach ribbons and efforts to raise awareness. Self Magazine decided to reach out to Ms. Haley and make her a part of their own campaign, but she declined to work with the magazine because of its commercial ties.
Undeterred, Ms. Penney and Ms. Lauder continued on with their plans to create a ribbon. Color was extremely important for the symbolic ribbons, and the two women put great thought into the color they choose. They decided on what is called "150 Pink", a standard yet elegant shade. Over 1.5 million of the pink ribbons were handed out that year, and the cause also produced 200,000 pink ribbon petitions that urged the White House to put more funding into breast cancer research.
What the Color Pink Represents
When you consider the emotional and mental affect that pink has it's quite understandable why it was chosen to be the color of breast cancer awareness. It wasn't simply because of the color's feminine association, though that is a factor. Margaret Welch, the Director of the Color Association of the United States, notes that studies have found that pink is thought to be:
Life affirming
Calming
Playful
Quieting
Stress relieving
Pastel pink like the color used in the breast cancer awareness ribbon is also thought to be health giving.
We're proud to be among the organizations that are getting behind the breast cancer awareness cause this year. During the month of October Square Cow Movers will wear pink shirts and wristbands to show their support!
Original Source: https://squarecowmovers.com/how-pink-became-the-color-of-breast-cancer-awareness-month/