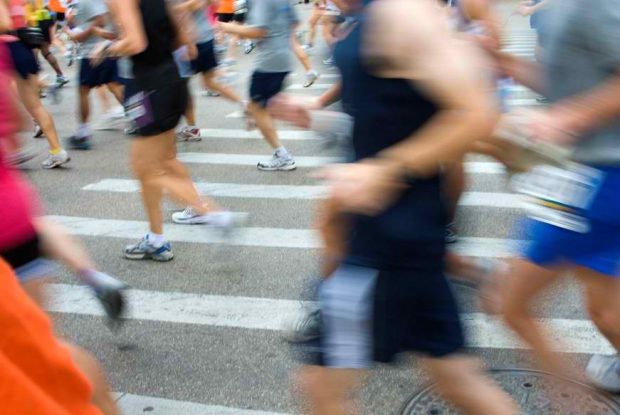 Spring is marathon season across the country. Runners are shaking off the winter chill and getting ready to test their endurance with a 26.2-mile run. Where that run will take you all depends on the marathon.
Our professional movers throughout the country have a front row seat (and have to plan routes around) some of the best marathons in the country. They've filled us in on their top picks for spring marathons that attract thousands of runners. It's time to get moooving!
Boston Marathon – Hopkinton, MA
April 17, 2017
No U.S. marathon is more prestigious than the Boston Marathon. Elite runners from all over the world come to take part in the world's oldest annually contested marathon. Now in its 119th year, the Boston Marathon is expected to have 36,000 participants and more than 500,000 spectators along the route. Just keep in mind you have to qualify before you can make the run.
Rock 'n' Roll Nashville Marathon– Nashville, TN
April 29, 2017
Get ready for some honky tonk running fun! The Rock 'n' Roll Marathon is back in Nashville for it's 18th year. The concept of the run is perfect of a musical city like Nashville. The 3-day event features a number of races, including a new 1 Mile nighttime run downtown. However, it's the massive block party that's made the Rock 'n' Roll Nashville Marathon a legendary event.
Kentucky Derby Festival Marathon – Louisville, KY
April 29, 2017
Most people think the Kentucky Derby is just a horserace with amazing hats, but in actuality it's a weeklong event. One of the highlights is the Kentucky Derby Festival Marathon. Up to 18,000 runners compete in their own race, but the marathon is unique because it's run as a relay team. The race includes a stint through the historic Churchill Downs infield before finishing in downtown Louisville.
Big Sur International Marathon – Carmel, CA
April 30, 2017
If you want to take in spectacular views every mile of the run, then head to the west coast for this year's Big Sur International Marathon. It holds the honor of being the largest rural marathon in the world. The run along scenic Highway One goes through an impressive seven state parks. Not surprisingly, it's known as a top destination marathon and attracts 4,500 marathon runners every year.
Texas Switchback Trail Race – Dripping Springs, TX
May 13, 2017
Just a few miles west of Austin runners can take on an epic trail run during the Texas Switchback marathon. We Texans are known for doing things bigger, even when it comes to marathon running. In addition to the long distance, runners will be challenged by the trail terrain as they run through Flat Creek Crossing Ranch near Pedernales State Park. You can even reserve onsite lodging and camping to make a weekend of it.
This year's beneficiary of the Texas Switchback is Explore Austin, an organization that works with underserved youth
Colfax Marathon – Denver, CO
May 21, 2017
The Colfax Marathon is one of Runner's World's top picks for long-distance runners. It's also noted as one of the best marathons for beginners since it's a highway run. But unlike other urban marathons this one runs people through fire stations, the Denver Broncos' Mile High Stadium and other interesting locales. There's also a half-marathon through the Denver Zoo. The Colfax Marathon is Denver's only 26.2-mile race, so it's expected to be a popular event.
Planning a move to Austin, Denver or Nashville before the next big marathon? Then give Square Cow Movers a call! We can get you packed up and moved in before it's time to get to the starting line.
Original Source: https://squarecowmovers.com/get-mooving-best-spring-marathons/