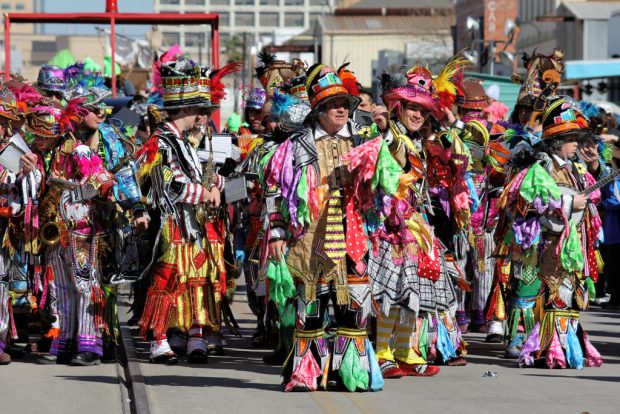 Mardi Gras is French for Fat Tuesday. Believe it or not, it's actually a Christian holiday that's closely associated with Roman Catholicism. You see, Mardi Gras is the day before Lent, a 40-day period of repentance where people give up at least one vice. Think of it as a time to buckle down on your New Years resolution while it's still early in the year.
Mardi Gras is one last day to slack off and just have fun. It's a time to let loose before you have to start fasting and sacrificing.
Everyone knows New Orleans is the epicenter of Mardi Gras, but if you aren't near the Big Easy you can still celebrate in style. The carnival celebrations are actually held all over the world, including these five cities in the U.S.
Dance Away at Carnaval in Austin, TX
The only party that can rival Mardi Gras in New Orleans is Carnival in Rio de Janeiro, Brazil. For hundreds of years millions of people have flocked to Rio de Janeiro to take part in the largest, most over-the-top carnival in the world.
If you don't want to stray that far away for Mardi Gras, visit Austin instead. It's home to Carnaval, the largest Brazilian carnival outside of Brazil. Every year there's a new theme that inspires many of the vibrant costumes worn by guests. But do be aware costumes that leave little to the imagination are in abundance, just like the original Carnival in Rio.
Have a Slice of King Cake in Washington, D.C.
If you happen to be passing through Washington, D.C. for work, school or pleasure in February you can take part in the Mardi Gras festivities. The events are so grand Louisiana natives are known to travel to D.C. to add a little extra authenticity to the occasion.
While you're in Washington, D.C. get to the Bayou Bakery, Coffee Bar and Eatery. They have one of the best king cakes in the country. King cake is the food most closely related to Mardi Gras. People indulge in the extremely rich dessert leading up to Lent.
Parade Through Mobile, AL
Being so close to New Orleans, it makes sense that Mobile, AL would be a Mardi Gras hot spot. Technically, Mobile is home to the longest running annual Carnival celebration in the U.S., which started in 1703. The parades go on for weeks in downtown Mobile as people gather together for unparalleled parties. You can even learn about the history of Mardi Gras in the city at the Mobile Carnival Museum. This year revelers will also get to enjoy the long awaited opening of Mobile's Mardi Gras Park.
Throw Beads From a Balcony in Galveston, TX
On the other side of New Orleans, Galveston gears up for massive Mardi Gras celebrations every year as well. The city is transformed with 12 days of revelry that gives Mardi Gras the "everything is bigger in Texas" treatment. There are dozens of parades, even more live music events and balcony parties just like on Bourbon Street.
Bundle Up for Mardi Gras in Breckenridge, CO
Breckenridge proves you don't have to be in a warm climate to enjoy Mardi Gras parades and parties. Despite the freezing temperature, thousands of people still come out to celebrate carnival season. It's one of the few places in the world where you'll see Mardi Gras performers parading down a snow covered street. Fat Tuesday kicks off with a gumbo cook-off and ends with a free concert featuring a brass band.
As professional movers our team is always moving and shaking. If you find yourself moving to Austin or the Galveston area this Mardi Gras season give Square Cow Movers a call. We'll help you get everything loaded up and moved in so you have time to celebrate Fat Tuesday!
Original Source: https://squarecowmovers.com/best-places-celebrate-mardi-gras-year/