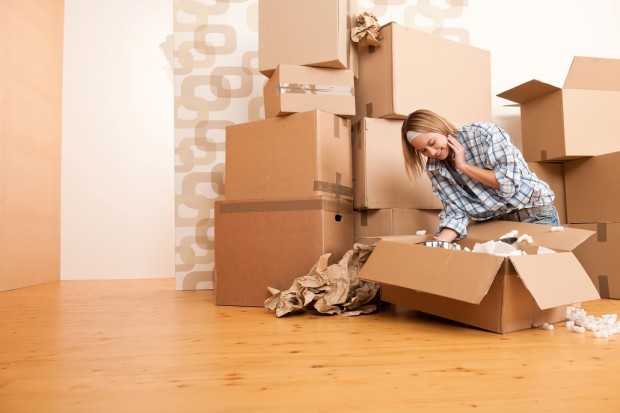 Carefully preparing for a move is an important part of a successful move.  If your goal is to make your move as stress-free as possible, packing well is a crucial early step.  Square Cow Movers offers packing and unpacking services, but many clients choose to pack themselves.  If this is you, we have created a comprehensive list of packing tips to help you have a happy move!
When to Pack
Start packing early.  Earlier than you might think. When you begin packing you find all the things you forgot about or no longer use.  Packing earlier will give you ample time to sort through your things, purge and complete all packing.
Pack things you don't use on a daily basis first in advance of your move, e.g. decor and off-season clothing.
What to Pack In
Soft items such as clothes, towels, linens and pillows can remain in drawers and don't need to be put in boxes.
Everything else needs to go in a box.  If it fits in a box, it should be in a box.  Boxes are standardized and easy to move. The more items you have in boxes, the more efficient your move
We know boxes and supplies can be expensive.  Many clients choose to buy from a big box store or track down used boxes or even go dumpster diving.  We are happy to move these boxes.  Please keep in mind that a lower quality box can often be compromised when stacking, causing unnecessary damage.  If you do choose to buy your boxes from Square Cow Movers, please know we are proud to support the environment with our packing and storage boxes made from 100-percent recyclable cardboard.
Plastic bins and totes with lids are perfectly acceptable packing receptacles.  Taping the lid on a plastic bin is not necessary.
Dish pack boxes (thick corrugated boxes) are best for packing very fragile kitchen or glass items.  These boxes have thicker walls and are extra sturdy.
When packing approved liquids please use Ziploc bags for non-sealed items such as dish soap, laundry detergent, etc.
Box Packing Strategy
Boxes that are filled all the way to the top are less likely to get crushed.  Fill all boxes to the top, and if you run out items please fill the void with paper or soft items.
Towels, blankets, pillows, and or other soft items can be used to pad fragile items in boxes and help fill to the top
Full boxes are best, but don't over-pack your boxes.  A good rule to follow: the heavier the item, the smaller the box.
Shoes can be placed on the bottom of wardrobe boxes, beneath the hanging clothes to utilize the empty space.
Use packing tape to seal boxes.  Duct tape does not adhere securely to corrugated cardboard and other types of tape may not seal adequately.
Please label the box with the room it should be placed in.
When Packing Lamps…
Table lamps need to be packed in boxes.  Floor lamps will be handled by the movers.
All lamp shades must be boxed. When packing lamp shades, wrap the shades individually in paper. The lamp shades can typically be stacked inside one another but need plenty of paper between each shade. Place the lamp shades in a box labeled "Lamp Shades".
What to Move Yourself / What We Can't Move
By law, a moving company cannot transport hazardous materials such as: gasoline, bottled gases and other flammables, firearms, ammunition and explosives, harsh cleaning fluids and medication.  Other arrangements must be made for moving these materials.
Personally transport all important legal documents, valuables (ex; cash/jewelry), and family medical records.
Open "Me" First Box
Pack a necessities box that you can label "unpack first."  You can place any important items in this box that you may need to access immediately.  Examples would be toilet paper, bed sheets, a shower curtain, etc.  We have some more packing suggestions here.
We hope these tips will help you pack as efficiently and safely as possible!
Original Source: https://squarecowmovers.com/best-packing-practices-updated-packing-tips-and-tricks/