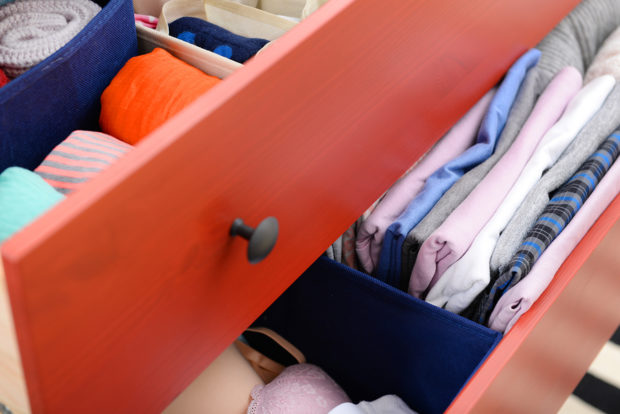 If you've been looking up moving and packing hacks, you've probably seen information on how to save time transporting bulky dressers. Large, heavy dressers are one of the few things that even professional movers can have a hard time with.
One of the most common questions we get about dressers is whether or not clothes and other items should be left in the drawers. The short answer is often yes, but that isn't always the case. It's also good to know a few other dresser moving essentials before deciding whether or not to empty the drawers.
The Do's and Don'ts of Moving Dressers
Do leave clothes in the drawers if the dresser is light enough to move.
Don't leave clothes in drawers if the dresser is heavy. The extra weight could make moving the dresser unsafe.
Do leave the clothes in the drawers if you take them out. The drawers can double as makeshift moving boxes.
Don't load down the dresser if it's aged or an antique. The addition load could increase the risk of damage.
Do secure the drawers shut whether or not clothing is inside. This prevents the drawers from sliding open during transport.
Don't keep clothes in the drawers if the dresser is a ready-to-assemble design. They are less durable and more likely to give way.
Do consider leaving clothes in the drawers if you are tight on space or short on moving boxes.
Don't leave items in the drawers if they are loose, fragile or valuable.
Do keep the drawers full in a solid, sturdy dresser if it will remain upright the entire time.
Don't leave clothing in the drawers if the dresser has to be carried up a flight of stairs or around tight corners.
These do's and don'ts apply to all furniture with drawers. It's a good idea to ask yourself a few questions before attempting to move a fully loaded dresser.
How durable is the dresser?
Can it be safely moved by two or three people?
Do I have equipment for moving heavy, bulky objects?
Is there anything breakable in the drawers?
How is the dresser going to be moved in and out of the homes?
Keeping the drawers packed with clothes is a judgment call. When in doubt ask your moving company for their opinion on whether or not to unpack a dresser.
At Square Cow Movers we're equipped to handle dressers of all sizes, with or without the clothes left inside. We also offer packing services that take all of the guesswork out of the process since we're doing it for you.
Give us a call today to connect with a knowledgeable moving coordinator.
Original Source: https://squarecowmovers.com/can-leave-clothes-dresser-moving/