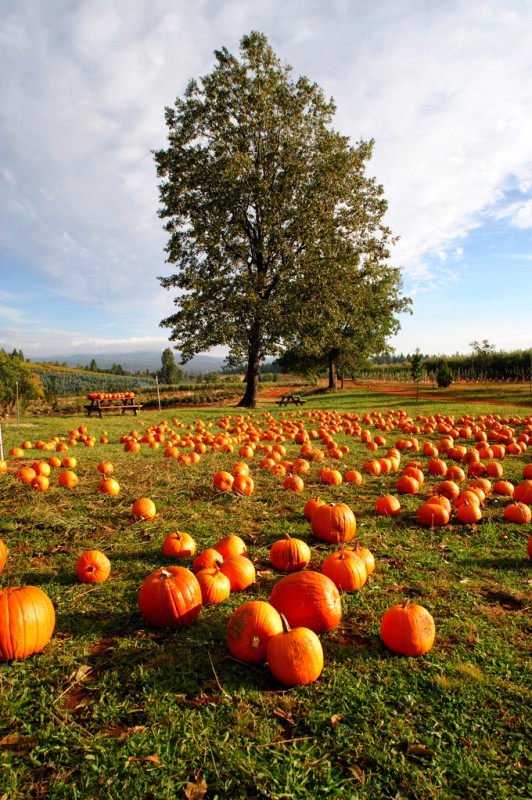 Cooler weather may just now be making it's way into Houston, but you can help your family get into the fall spirit by visiting a pumpkin patch in the area. In October school is back in full swing, kids are busy with homework and extracurricular activities, while parents are back at work, contributing to projects and maintaining the household. Christmas is right around the corner, but don't forget to enjoy the fall season with your family. Some of the pumpkin patch locations are so adept at hosting holiday themed events that you can come back later for Christmas trees. Some pumpkin patches will be bigger than others with more offerings, but with this comprehensive list, you will be sure to find a pumpkin patch in your area. From mazes to hayrides to face painting to petting zoos, there are a wide variety of activities that you can participate in at different pumpkin patches.
Here are the best pumpkin patches in the Houston area.
-7 Acre Wood
4401 N Frazier St, Conroe, TX 77303
(936) 890-2326
-Bear Creek United Methodist
16000 Rippling Water Dr, Houston, TX 77084
(281) 463-2330
-Blessington Farm
510 Chisolm Trail, Simonton, TX 77485
(832) 444-8717
-Clear Lake United Methodist
16335 El Camino Real, Houston, TX 77062
(281) 488-5110
-Cornelius Nursery
2233 S Voss Rd, Houston, TX 77057
(713) 292-0898
-Cypress United Methodist Church
13403 Cypress North Houston Rd, Cypress, TX 77429
(281) 469-0730
-Dewberry Farm
7705 Farm to Market 362, Brookshire, TX 77423
(281) 934-3276
-Froberg's Farm
3601 Texas 6, Alvin, TX 77511
(281) 585-3531
-Halter Inc.
17410 Clay Rd, Houston, TX 77084
(281) 508-6501
-Holy Cross Episcopal Church
5653 W Riverpark Dr, Sugar Land, TX 77479
(281) 633-2000
-Humble First United Methodist Church
800 E Main St, Humble, TX 77338
(281) 446-2332
-Kingwood Good Shepherd Episcopal Church
2929 Woodland Hills Dr, Kingwood, TX 77339
(281) 358-3154
-Matt Family Orchard
21110 Bauer Hockley Rd, Tomball, TX 77377
(281) 351-7676
-Memorial Drive United Methodist Church
12955 Memorial Drive – Houston, TX 77079
(713) 468-8356
-Nature Discovery Center
7112 Newcastle St, Bellaire, TX 77401
(713) 667-6550
-Oil Ranch
23501 Macedonia Rd, Hockley, TX 77447
(281) 859-1616
-Old Mac Donald's Farm
3203 Farm to Market 1960 E, Humble, TX 77338
(281) 446-4001
-Old Time Christmas Tree Farm
7632 Spring Cypress Rd, Spring, TX 77379
(281) 370-9141
-P-6 Farms
9963 Pooles Rd, Montgomery, TX 77356
(936) 597-6062
-Pasadena First United Methodist Church
1062 Fairmont Pkwy, Pasadena, TX 77504
(281) 487-8787
-Shepherd of the Heart United Methodist
County Road 59, Pearland, TX 77584
(713) 436-5080
-Spring Creek Growers
23803 Decker Prairie-Rosehill Rd, Magnolia, TX 77355
(281) 259-8114
-St. Luke's United Methodist Church Pure Pumpkin Patch
3471 Westheimer Houston, TX 77027
(713) 622-5710
-St. Mark's Episcopal Church
3816 Bellaire Blvd, Houston, TX 77025
(713) 664-3466
-St. Peter's United Methodist Church
4509 Springdale Rd, Austin, TX 78723
(512) 926-1686
-TGR Exotics
22115 Sherrod Ln, Spring, TX 77389
(281) 353-5252
-Wood Duck Farm
270 Pine Valley Rd, Cleveland, TX 77328
(281) 593-3642
Original Source: https://squarecowmovers.com/best-pumpkin-patches-in-the-houston-area/