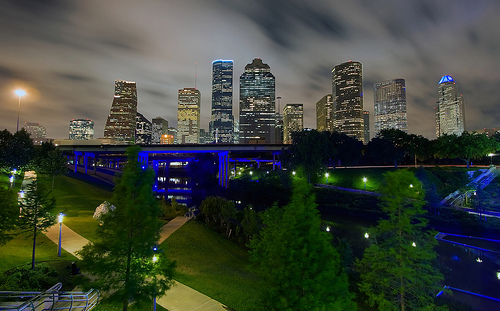 Houston is a sprawling metropolis, which encompasses 627 square miles in the city and many more surrounding it. There's more than enough variety and space to fit the needs of any kind of homeowner. From lofts to estates, Houston has neighborhoods for everyone. Here's a look at some neighborhood options in the different areas of Houston.
Popular Areas in Houston and the Surrounding Cities
Central Districts
Downtown – The downtown area is for movers and shakers that are always looking for something new to do. The recently revived area is now known for its multitude of mixed-use areas including the expansive GreenStreet section.
Midtown – This area is for anyone who loves the open space of a loft rather than a backyard. In Midtown the city itself is the backyard for professionals that want to be in walking distance of trendy restaurants, museums and entertainment. It's relaxed during the day and comes to life at night.
Montrose – Offbeat in a great way, Montrose is home to those that believe in the phrase 'live and let live'. There are four square miles of bungalows, mid-century homes and quirky shops with all kinds of wares.
Memorial Park – The newly revitalized Memorial Park neighborhood was long overdue for a makeover. Today the dilapidated properties have been replaced with townhouses and mixed-use spaces. You can easily get around all of central Houston and enjoy plenty of outdoor green spaces in Memorial Park.
East End Neighborhoods
East Downtown/EaDo – East Downtown is a growing area that started as Chinatown and now has a more downtown feel. It's culturally diverse, with both businesses and residents moving in on a regular basis. EaDo is close to downtown, but the new MetroRail will make it better connected to the rest of the city.
North Houston Areas
Houston Heights – If historic homes with interesting architecture are what you're looking for you can find some of the oldest properties in Houston Heights. Well-established with a history that goes back to the 1800's, this neighborhood near downtown was once very residential but has become trendy and hip. You'll find a younger crowd that's into the boutiques and art stores in the area.
West Districts
Chinatown – Houston is home to the second largest Indochinese population and the Asian community is vibrant here in Chinatown. Now in the southwest portion of the city, the neighborhood offers a rich cultural experience, tons of bargain shopping and a variety of housing.
Memorial – It's an affluent area that includes more than 30 subdivisions. Memorial is all about maintaining a secure, manicured type of lifestyle that offers families the best in the residential sense. The schools are top-notch and the homes are all well maintained.
Memorial Villages – This area is actually made up of six villages in west Houston that include many estates. Piney Point Village is one of the wealthiest areas in the state with huge homes that are well over half a million and up. However, there are much more affordable, quiet little neighborhoods like Hunters Creek Village.
The Woodlands
It's a blend of a well-planned community tucked into the surrounding nature. The Woodlands is made to cater to families and seniors that want the convenience of exemplary schools, shopping, trails, recreation and more all within the community. With so many amenities and activities you may never have to make the short drive to Houston.
This is just a small sampling of the neighborhoods that are in and around Houston. Moving around any part of the city is what we do best at Square Cow Movers. From The Woodlands to Clear Lake and everywhere in between we can get you there and settled in so you can focus on enjoying your new Houston home.
Image Source: www.flickr.com/photos/telwink/2472012853
Original Source: https://squarecowmovers.com/which-houston-neighborhood-should-you-live-in