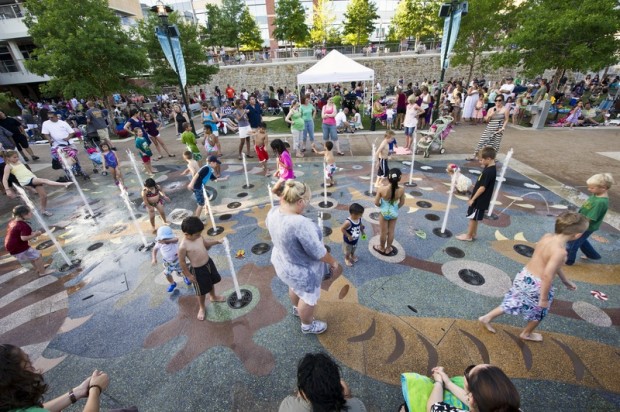 Many people who live outside of the great state of Texas have an inaccurate perception of cowboy hat wearing and horse-riding Texans that live in cities filled with tumble weeds and hitching posts.  Living in Texas, we know that our favorite state is full of diverse cities and people.  Houston and Dallas have reputations as concrete jungles of the South, after becoming acquainted with the greatest city in the greatest state (Austin), we can unfortunately confirm these rumors.  All joking aside, when you have the opportunity to be in a beautiful space in Houston, you should take it!  We know that all cities in Texas have their merits and drawbacks and that beauty can be found anywhere.  However, in the large unzoned, open, urban area that is Houston and its outlying suburbs take advantage of the beauty when you can find it.
Waterway Square in the Woodlands is a beautiful oasis in the concrete-filled Houston area. Grassy lawns perfect for picnics and play, illuminated fountains at night and water features for kids are some of the great amenities Waterway Square has to offer.  Every Saturday night in June from 6PM to 8PM there will be live music and strolling entertainment at Waterway Square for "Waterway Nights".  This will be the last "Waterway Nights" Saturday this summer and you won't want to miss this week's lineup.    The artist Clayton DeGuerre will be playing soft rock while a unicyclist will be providing the strolling entertainment this Saturday, June 29.
You might go for the soft rock, but personally, we are intrigued by the unicyclist.  Riding a bike is difficult for a cow, but a unicycle seems impossible.  We hope to observe the unicyclist and maybe even ask for some tips.  Humans are more symmetrical and don't have to worry about the added weight of hooves and the difficulty of balancing out a pair of horns or an udder.  An udder may seem like no big deal to you, but perhaps you should attach some water balloons to your stomach and see how far you get on an unicycle.  Regardless, we hope to be entertained and awed by this strolling performer, who will likely capture the attention of even the youngest audience members.
One of the best parts about this event, is the fact that it is free!  The Woodlands Convention Center and Visitors Bureau produced this great community event and is graciously allowing anyone to attend.  Budget conscious families are welcome to bring their own food and drinks.  Families are encouraged to bring picnics, chairs, blankets and coolers.  Kids can play cool off by playing in the fountains and burn some energy running through the open grassy spaces of the square.  Cows need not bring their own picnic as the grassy areas will suffice as a delicious meal for those bovine in nature.  There is limited free street parking, so you may want to get there early!
For more information: http://www.thewoodlandscvb.com/pages/TWCVBEvents/WaterwayNights/tabid/93/Default.aspx