We try not be too resentful when people use the idiom "feather your nest" when referring to decorating and furnishing their homes. Why do birds get all the glory, while cows have none? Have you ever looked at a bird's nest? While the nest may be made of twigs, feathers, loose debris and other odds and ends, the only thing that is ever in a nest is the bird itself or some eggs. Keep that image in mind while you think about the inside of a barn? Not every barn has a luxurious interior, but there are far more components and contents of a barn than a bird's nest. We propose that from now on we will use the term "fill your barn with feed" instead of "feather your nest" when referring to decorating or making home improvements. If you need to "fill your barn with feed" read on!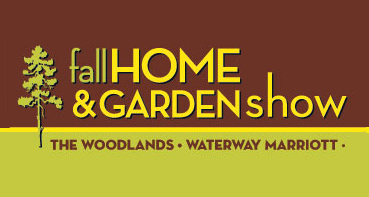 New or "new to you" houses come in a variety of sizes, ages and shapes. Whether your new home in The Woodlands was custom built or is a bit of a fixer-upper, you probably still have a few details to complete to make your new house into a home. From a complete home renovation to the perfect window treatments, find all the resources and home products you need at the The Woodlands 11th Annual Fall Home and Garden Show. You can check out the latest in home design, trends and styles on Saturday August 24th from 9 AM to 7 PM and on Sunday August 25th from 10 AM to 6 PM at The Woodlands Waterway Marriott. Ticket prices are $9 for adults and $7 for seniors. Children 12 and under are free.
Featured exhibitors at the Fall Home and Garden Show include: Wonderful Windows and Siding, Wilsonart HD, Stewart Land Designs, Big Tex Tree Nurseries, Billiard Factory, Final Touch Granite, Cunningham Gas Products, Carol's Lighting and Fan Shop, Bello Domani Outdoor Design, Keechi Creek Builders, Partners in Building, Built Green Custom Homes, Kurk Home, Phantom Screens, SafeRacks, Ideal Garage Solutions, Monkey Bar Garage Storage Systems, Closet Factory, Rhino Shield, Stone Systems of Houston, Mayeco Magnetic Windows, Plumb Perfect, Innovative Skylights and Attics, Rock-Crete Foam Insulators, Texas Decks, Nature's Way Resources, Southern Paint, KWC Designs, Simple Elegance, DirectBuy of Houston North, Castle Furniture, Sleep Number, Fine Line Glass Tinting, Bradbury Brothers Heating and Air Conditioning, Omega Wine Rooms, Budget Blinds, Cambria USA, Cabinets Your Way, Texas Luxury Showers, Built-In Appliance Center, Designer Kitchens, EZ Reach Cabinet Systems, Bath Fitter, Pits by Design, Cool A Zone, 21st Century Sunrooms, TLC Outdoor Living, Mercado Construction, Houston Mosquito Control, Conroe Awning and Screen, Gutter Professionals of Greater Houston, Trim-A-Slab, Topaz Pools, Cody Pools, Nature Clear, Homestory of Houston, Adooring Designs, Mayeco Magnetic Windows, Rick's Front Door Refnishing and Door Clearance Center.
The Fall Home and Garden Show is more than just exhibitors and home products, the show also features antiques appraisals, cooking demonstrations, a craft beer tasting tent, several different exhibits and presentations by gardening experts, energy specialists, a home stager extraordinaire and even an organizing consultant.
For more information: http://www.woodlandsshows.com/
Image Source: woodlandsshows.com/
Original Source: https://squarecowmovers.com/wednesday-woodlands-community-event-fall-home-garden-show