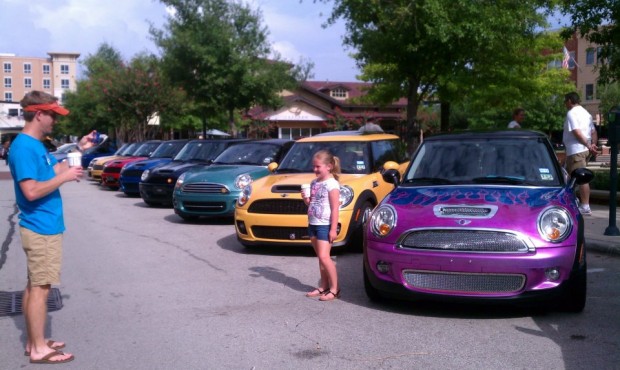 Why do cows love cars, trains, planes and all forms of transportation? Because they moo-ve!
It's a cheesy joke (we know), but as moovers, that is one of our favorite tag lines, not to mention the basis for our business name. We especially like when anything that mooves gathers together in a pack, or herd as we call it. The Cars and Coffee for a Cause is a great community event in The Woodlands where you can view a "herd" of unique, unusual and showy cars.
On the first Sunday of every month, The Woodlands Car Club meets at Market Street. While looking at cool cars and sharing a mutual hobby with others are top priorities, so is giving back to the community! Every year The Woodlands Car Club chooses four great local causes to promote and help support.
In 2012 The Woodlands Car Club chose the following four causes: the Montgomery County Community Foundation, which was established to create and build a permanent fund to provide for the present and future well-being of the community, CASA – Child Advocates of Montgomery County, which is Montgomery County's only court-appointed organization advocating for abused and neglected children, Cypress Woodlands Junior Forum Project, which is a dynamic women's volunteer organization with a passion for giving from the heart to the northern corridor of Houston, and Project Linus Montgomery County Chapter which is a charity dedicated to making security blankets for babies, children and teens in need.
This year the four causes The Woodlands Car Club and Market Street selected include: Best Buddies Conroe ISD, which consists of volunteers that attempt to create opportunities for people with intellectual and developmental disabilities, St. Lukes The Woodlands Hospital, a general medical and surgical hospital in The Woodlands, Executive Women's Alliance, which provides career enhancement and leadership opportunities for its members and educational outreach programsto young women though its Women of Vision Program, and Emergency Ministries, which provides Chaplaincy service to EMS, Fire, Paramedic and Police agencies on-scene and "behind scene" with an emphasis on Critical Incident Stress mitigation.
Members of The Woodlands Car Club will show-off their unique cars while also passing out information about a featured charity and collecting donations or coins for one of the four charities. Representative from the featured charity are invited to come out and help support their organization by educating the public about the services their organization provides. The types of cars show include: exotics, classics, hot rods, imports and domestics. Attendance is reported at around 300 people coming to view the cars on the first Sunday of the month. Over 125 cars are shown at each TWCC event. Dana Pritchard, the President of The Woodlands Car Club, reports that the club is celebrating their eighth year. Market Street and The Woodlands Car Club are happy to be able to team up together to help support charitable community organizations. If you have a cool car, just want to check out some hot rods, or want to help contribute to a great cause, head over to Market Street on Sunday, August 3!
For more information: http://www.woodlandsonline.com/npps/story.cfm?nppage=50507