After a move there are plenty of boxes left over, which is the perfect foundation for Mother's Day craft projects! Keep reading to get a few craft ideas that moms and kids can enjoy doing together as well as ones that dad can help with to give mom a Mother's Day surprise.
Finding Good Boxes to Work With
Before beginning a project you'll want to find the very best boxes to use. What constitutes the best box varies depending on the type of project you're working on.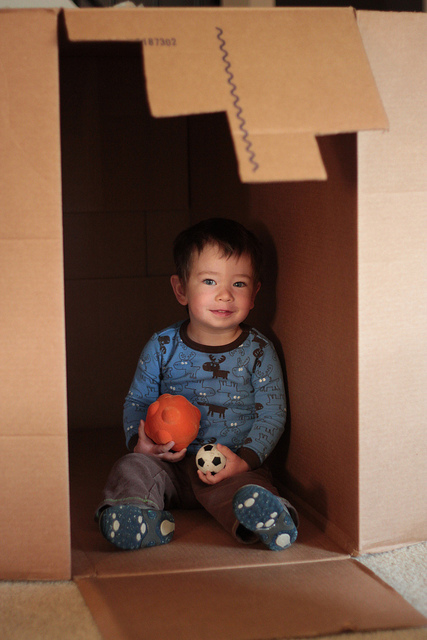 Don't be dissuaded if a box has been written on or has stains. There's a good possibility that they can be easily covered up. For some projects these blemishes won't make a difference.
You might want to exclude more expensive boxes such as wardrobe boxes and specialty electronic boxes from the projects so that they can be stored in case you need them for a future move.
Pass up any boxes that have water damage. They won't have good structural integrity and may be difficult to work with.
Surprise Mom with Moving Box Made Gifts
Most of the time moms don't need extravagant gifts on Mother's Day. Getting a homemade gift that their kids put time, effort and love into can be the best gift of all.
Giant Mother's Day Cards
The creases and folds in moving boxes make it easy to convert them into giant cards. Simply cut away two connecting sides of the box. You can then dress up the front and back flap with construction, wrapping or packing paper. Next use markers to create personalized message on the outside and inside pages of the card.
Original Art
Turn a picture frame box into an original piece of art quickly and easily. All dad has to do is cut away the top flaps of the box. Now the kids can paint a scene on the solid bottom in the inner portion of the box. Allow the paint to dry then affix adhesive picture hanging strips to the back. Mom will get original art to decorate the new house with!
Mother's Day Moving Box Craft Projects
Sometimes the best gift is getting to spend time having fun with your kids. The ideas below are a great way for the whole family to get involved and recycle used moving boxes to create something entirely new.
Build a Fort
No matter how old you are, building a fort will bring out the kid in you. If it's a nice day outside gather up a load of large sturdy boxes, a pair of scissors or utility knife, super glue and some duct tape. That's all you need to create an impressive moving box fort. What you can build is limited only by your imagination. One of our favorites is a cardboard barn.
Get a super large, rectangular shaped box like a refrigerator or appliance box.
Sit the box so that the closed bottom is on the ground and the top flaps are all folded outward.
Position the two longest open flaps at the top so that they create an upside down V. Glue them together followed by a layer of duct tape and you've got a peaked roof.
Choose one of the shorter sides to be the front of your barn. On that side cut the top flap into a triangular shape so that it fits perfectly in the hollow space of the peaked roof. If you'd like you can cut the flap away entirely so that it lets more light in.
Next cut a large T across the front of the box to create a double door into the barn. The top of the T should be located just below the crease of the front flap.
Now break out some red, black and white paint, and have fun decorating your new barn.
Build a Puppet Show Playhouse
If you'd rather build something together that's a little different try a puppet show playhouse. Begin by using a large appliance box or wardrobe box for the playhouse structure.
Sit the box so that the closed end is on the ground.
Next, have one of the parents cut out a window in the top third of the box and also cut away the open flaps at the top.
On the opposite side of the box from the window you'll also need to cut along one corner and along the bottom edge so that the back can swing open.
You now have a puppet show playhouse that can be used with string puppets from above or hand puppets from below. If you'd like you could use the left over cardboard to make a few puppet cut outs that can be glued to popsicle sticks or threaded with string. You'll have everything you need for a special Mother's Day show.
Image Source: flickr.com/photos/olegshpyrko/6333876538
Original Source: https://squarecowmovers.com/turn-moving-boxes-into-amazing-mothers-day-projects/