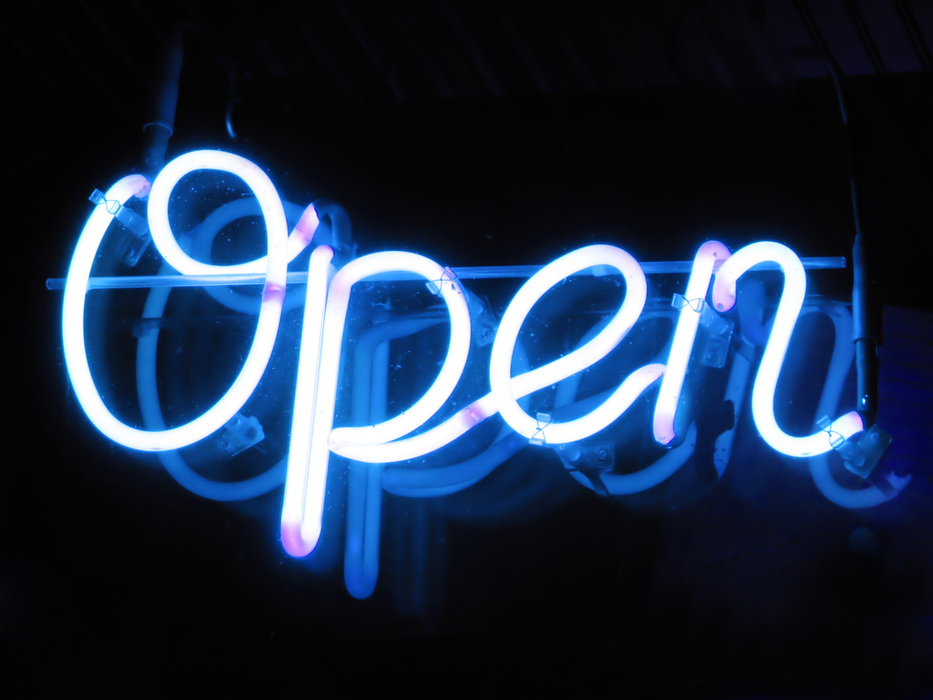 Earlier this month we provided our top 10 tips for storefronts, which included a few mentions about business signs. One of the most important aspects of any brick-and-mortar store is the signage. Without it your store or office would just be a nondescript building.
Research has shown that 50% of business for start-ups comes from sign exposure. Even well established, high-tech companies like Best Buy have noted that signs bring in 17% more business.
If you want to get noticed for the right reasons, differentiate yourself from surrounding businesses and generate more revenue. Here are a few signage ideas for you to try!
The Marquee Sign
Signs have been used by businesses for centuries, mainly to announce the establishment's name. The marquee sign is arguable the most important aspect of your brick-and-mortar store or office. It's like your location calling card. A few marquee sign best practices to keep in mind include:
It's got to be big and bold so people see it even if they aren't looking for it.
The font should be easy to read.
Use a color that contrasts from the building. Bright colors are usually the best, but white against a black background is also effective.
Marquee signs that include back-lit letters or spotlighting are even better because they provide nighttime exposure.
Outdoor LED Signs
Another type of sign that you'll get years of use out of is an outdoor LED sign. LED signs can give your location better visibility both day and night with super bright illumination that's energy efficient.
But the other big advantage of outdoor LED signs is customization. These bad boys can be customized with a few clicks of a button. They are commonly used by gas stations and movie theaters for this very reason. Outdoor LED signs aren't cheap, but their longevity and customization almost assures ROI.
Banners
Banners are big, colorful, affordable and easy to install in a lot of different locations. There's also a lot more variety than you may realize. Options include:
Glossy finish vinyl banners – these are the most common type of outdoor banners.
Matte finish vinyl banners – good for indoor use.
Mesh banners – they allow the breeze through, which makes them ideal for stringing across a street.
Pop-up banners – you'll see these at conventions, events and storefronts since they are portable and set up in seconds.
Pole banners – these can help you make the most of vertical space.
If you plan to have a grand opening at your new location a banner is a great way to announce the event.
Window Signs
This is a type of storefront signage we touched on in the previous post. Window signs are a lot of fun since you can create all sorts of graphics and imagery. They are also hassle-free – essentially you just have to peel and stick. It's a great option if you have limited space for other types of signage or if you just want to add a little more privacy inside.
Flags
In the sign world, the cousin of the banner is the flag. It's a non-traditional type of signage that's very effective at getting attention. The movement of a flag on a windy day helps it stand out among all the other static signs.
You can go with well-known symbols and words to attract a target group, or you can get one customized with your own logo and messaging. They're fairly affordable, but since they take a beating by the wind they'll need to be replaced regularly.
Vehicle Signs
Do you have a company vehicle sitting outside your location? At Square Cow Movers our massive trucks get a lot of attention, and you can bet your bottom dollar our messaging is splashed across the side.
There are two primary options with this type of signage: vinyl wraps and magnetic signs. If you are going to use a flashy vehicle to draw attention to your location vinyl wraps are the best option. You can cover more space and there's no chance of them falling off or getting removed.
One Type of Sign to Stay Away From
It's understandable that you want to do everything you can to get the word out about your new business location. But one idea that can backfire is what's known as bandit signs. These are those small yard signs you've probably seen come and go at intersections.
They're called bandit signs because they often aren't exactly within regulation. That's the main reason we'd steer clear of them. Many cities have rules that ban their use without approval and residents in the area usually hate them. The majority of the time they just aren't worth the trouble.
Let Square Cow Movers handle the packing and transport so you can focus on getting signs for your new location. We've handled all kinds of business moves in Central Texas, and now we're doing the same in the Denver metro too!
Original Source: https://squarecowmovers.com/tips-signage-new-business-location/