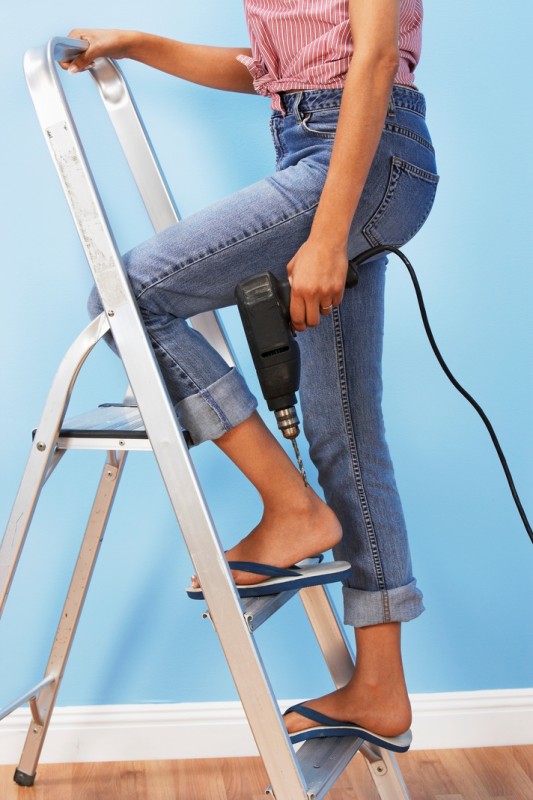 Moving into a home that needs a little work is a great investment. By purchasing a fixer-upper, you have  the ability to customize the house to your needs and decorate to your taste and style, as well as increase the value of your new home.  One of the biggest advantages is that you will save money by purchasing a house that needs work.  Fixer-uppers are typically older homes,leaving you to retain some of the unique charm while also adding modern updates.
Depending on how large of a project you are undertaking,  winter is not the optimal season to be without walls, a sturdy roof, or heat.  If you will be tearing down walls or overhauling your home's heating and air conditioning unit, do it in the summer!  Worse case scenario – you can always pitch a tent and camp in the backyard.
One of the most frequent home renovations that has a great return on investment is a new kitchen!  During the process of redoing your kitchen, you may not have access to your stove and kitchen gadgets, and  cooking could become impossible.  Summertime is perfect for a kitchen overhaul because you can always grill outside or cook camping style.  Pass the hotdogs and s'mores!
If your home renovation will be a family affair, the summer offers great flexibility for your kids.  A schedule is more important during the school year when you have fixed dinnertimes, bedtimes and shuttle your kids between homework and after school activities. During the summer, you have a little more freedom to have a later family dinner or bedtime.  If multiple rooms of your fixer-upper need work, your little ones may be sleeping in different rooms or areas of the house.  You may not have an operational kitchen or homework space for a few weeks. Due to this, it's easier to make your renovation a  summertime project. It won't just be a family adventure; it'll be easier since you won't have to subscribe to structure that the school year requires.
The flexibility of summer also means that depending on the ages and abilities of your kids, you may have some extra help.  We're not advocating forced child labor, but a fixer-upper means all hands on deck and every family member can contribute.  Alternatively, the summer is also a great time to send the kids to camp or grandma's house, so you and your partner can really get some work done.
Embrace the summer months as the perfect time to take the plunge and move into a house that needs some work!
Original Source: https://squarecowmovers.com/the-upside-of-a-summertime-fixer-upper/