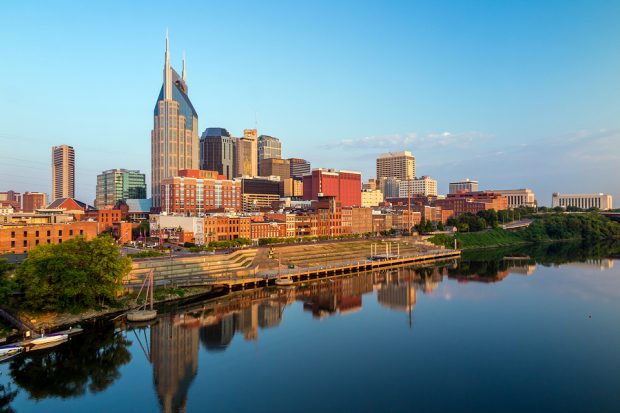 Square Cow Moovers is mooving on up to Nashville! Our Nashville location is now open. We are so excited to serve the people and businesses of Nashville aka "Music City." The Nashville, Tennessee expansion is special to us because it represents our 2nd out-of-state branch. Herd leader Wade Lombard weighs in on our recent Nashville expansion.
Why did Square Cow Moovers decide to expand to Nashville?
Wade Lombard: Few reasons. First, we really like Nashville. It feels like Austin (where we live, our home). The people are a great mix of Deep South and progressively minded. It's growing. Walt Bain, our manager is from Tennessee, so we're thrilled he's going home to be near family while evangelizing the Square Cow brand.
What excites you the most about the new Nashville location?
WL: This is new territory. We founded the company in central Texas and expanded to Colorado last year. This is our first branch in the Southeast. We want to move furniture like the Southeast plays football. With excellence.
Can you share a little bit about the new Nashville managers?
WL: Walt is married with two kids. He's a UT grad (that's the other UT, University of Tennessee…not Texas). He and his wife are from Tennessee. Bobby Zimmerman is a New Yorker. You'll hear it in his accent almost immediately. Bobby has such a great story at Square Cow. Like others, he started as a mover. He stood out in the way he cared for clients, worked tirelessly, and did it all with such a high standard.
How is operating a business in Tennessee different (or the same) as operating a business in Texas or Colorado?
WL: We are in the business of serving others. That is quite literally our goal with every client. The great thing about serving with excellence is that it works everywhere. If we can provide first class service to clients in Tennessee, we're confident we'll see the same results we've seen at our other branches. Serving is universal. The things we need to adjust to are changes in weather, specific state compliances, etc.
Do you think SCM will face any unique challenges in Nashville that SCM hasn't faced in other cities?
WL: It's certainly possible. We have never opened a branch without unique challenges. However, we're confident we can overcome obstacles. This is part of our culture. We know difficulties will surface, we hope to meet those difficulties with a strong sense of urgency. Overcome, learn, moove forward.
What strengths will SCM bring to the Nashville market? And how do you think Nashville will help SCM improve?
WL: Walt and Bobby specifically bring complementary traits. Walt's charming personality and successful sales background coupled with Bobby's strong work ethic and fix-it attitude should create tremendous success. Our Nashville branch will help us continue to build our brand in a region of the country we've yet to explore.
What is your favorite thing about Nashville?
WL: Country music, of course. Bobby Bones and every country music legend and up-and-coming star in one city. Oh, and biscuits. With the only true southern branch of our company, I hope to eat my weight in biscuits.
What would you like people in Nashville to know about SCM?
WL: We're here and ready to serve at a high level. We're not ready to say "we've seen it all" but we believe we're up to the task on almost anything the people of Nashville could throw at us.
Original Source: https://squarecowmovers.com/square-cow-news-and-events/square-cow-movers-expansion-nashville-tn/