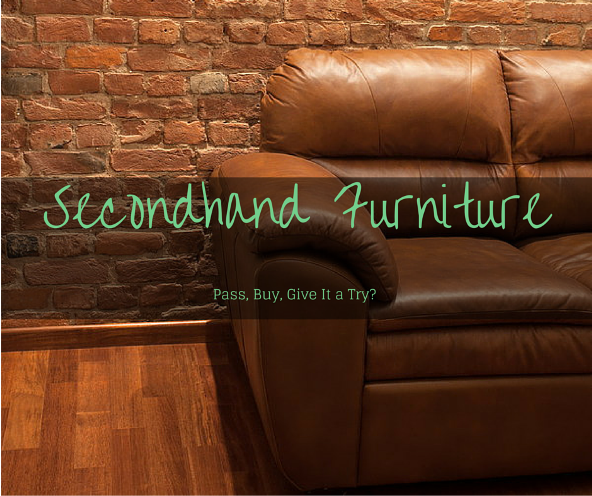 Furnishing a new place is an exciting part of the move, but can also be expensive.  Some items with the biggest mark-ups include: furniture, jewelry and brand new cars.  Think about when you buy a car and use this strategy when buying secondhand furniture. Unlike homes, most new cars immediately depreciate in value.  One financial strategy for dealing with this is buying a gently used car and letting someone else take the hit.
Where to buy
Secondhand furniture can be found online on Craigslist or in community Facebook groups, or at garage sales, at secondhand furniture stores, thrift stores and charity stores like Goodwill.  However, not all secondhand furniture is created equal.
Do your homework first
Some items may be a real steal. Other pieces can be overpriced, and you might be better off buying something new for a just a little more.  First, shop for new furniture.  We aren't advocating buying new furniture, but if you at least visit a few furniture shops or look online, you can educate yourself about the going rate of brand new furniture.  When you shop for used furniture with these figures in mind, you will know if you are really scoring a great deal or if something might be overpriced.
Hard or soft?
There isn't a hard and fast rule about whether to buy or pass on used furniture.  Many people may be more comfortable with buying hard secondhand furniture like tables, chairs, bookcases, shelving units or outdoor patio sets that are made of wood or metal.  When it comes to soft pieces like sofas, chairs, padded headboards and large area rugs, you may want to exercise a little more caution.  Fleas, lice and bedbugs are all pests that you don't want to invite into your home.
How to suss out furniture
It can be hard just to tell from an online photo if the condition of the piece is good.  Don't forget to ask for the dimensions before agreeing to meet.  Another hard and fast rule that should always be done first is measuring your doorways.  If this is a larger piece of furniture, make sure there is a way for it to fit through your doors first. If a seller agrees to let you come and look at a piece of furniture try to agree on a price before coming.  Avoid going to someone's house alone, or at least tell a friend or family member where you are going.  You may need some help lifting and carrying that piece of furniture. If you buy a piece of furniture from a consignment store or secondhand shop, they may have different delivery options.
Don't be afraid to pass on a piece of furniture if you get to a place and find that the object does not look like the picture, or that it is missing a piece, has a stain, flaw, hole or snag. Don't be afraid to say: "Sorry, this just really doesn't match the photo and will need more work than I want to commit to".  If it is something that you feel you can fix or maybe even get repaired, don't be afraid to try and negotiate a lower price.
When examining a piece of furniture look at all sides, open any drawers, turn up any cushions, etc.  Try to figure out the brand.  The brand will give you an idea of the original value. With Ikea, Target, Walmart or other big box brand store furniture, you may be better off buying it brand new.  An antique piece of furniture or something made from real wood may still have some life and wear left in it.
How to clean
If you do decide to take your chances on an upholstered couch or chair, don't bring it straight into your house. Even if it looks great, you can always take extra precautions so your house doesn't become infested with pests.  Sprinkle D.E. (diatomaceous earth), a natural white powder that will dry out the shells of any pests like fleas, bedbugs or lice, on the item. D.E. can be bought from pet stores in food grade quality, so it is a safe, natural substance.   Seal the upholstered piece of furniture in a plastic mattress bag for 4 or 5 days and let it sit in your garage.  After the 4 or 5 days are up, you can vacuum up the D.E. and even steam out the piece of furniture as an extra precaution.
Have fun thrifting; you might find something unique that will help add character to your home!
Original source: https://squarecowmovers.com/secondhand-furniture-pass-buy-give-it-a-try/