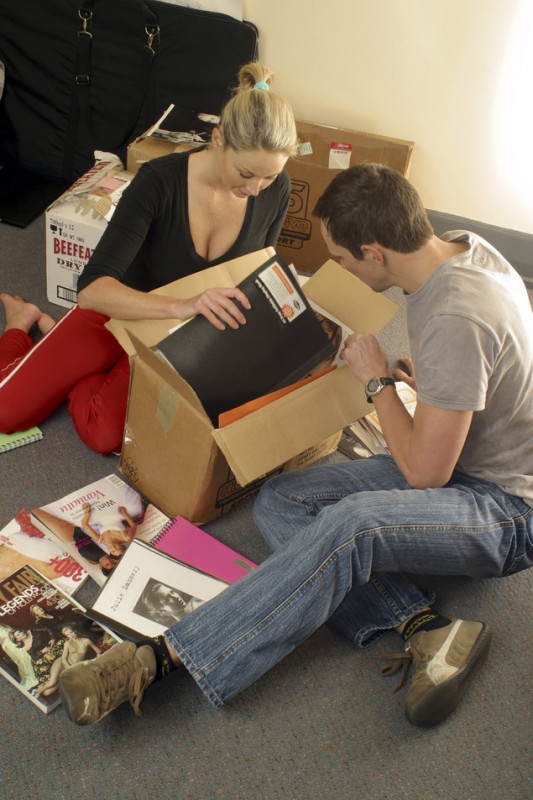 Moving is an expensive endeavor.  Who wouldn't want to save money where they could?  Using professional movers is not as cost effective as using the labor of friends and family members; however, you will have less stress and less potential mishaps with professionals.  Skimping on the most stressful day, moving day, is not advisable.  One of the areas where you can save money during a move is the packing stage.  If you can begin the packing stage early enough, the extra time will allow you to use more creative ways to save money.
Packing on a budget allows you to use your funds towards other necessary moving expenses and cuts down on unnecessary waste.  Who wants to deal with tons of crumpled up paper and empty moving boxes that need to broken down at the end of a move?  With these packing tips, you can save money, conserve materials and pack in an eco-friendly way.
Use recycled moving boxes. We have written a few blog posts on finding free moving boxes in the past.  You can find free moving boxes everywhere from liquor stores to coworkers.
Pack glasses and stemware in clean socks.
Pot holders can safely hold knives, scissors or other sharp objects.
Not everything has to be packed in a box.  Use baskets, laundry hampers, luggage and drawers as storage containers.
Pack heavier items like books in rolling luggage.
Instead of purchasing a plastic mattress bag to keep your mattress clean, use two old fitted sheets (one on each side) to protect your mattress.
Spices can fit in a large slow cooker, your biggest pot with a lid, or any other appropriately sized vessel.
Paper grocery store bags can replace newspaper to pack bowls, glasses or other breakable items.
Clean out your trashcans or line them with plastic bags and then use them as storage containers too.
Toys or clothes already stored in drawers or bins can just remain there.  Why unpack and repack?  Use plastic wrap to secure loose items in open bins.
Clothes, bedding, beach towels, linens, and any other soft items can be used to wrap up or cushion fragile items.
Stuffed animals, pillows and blankets can fill in irregular or empty spaces in moving boxes.
Whenever you buy a new comforter or sheets, save the plastic zippered bags.  These bags are perfect for repacking you linens.
Using these tips can help you save money and your sanity during your next move!
Original Sources: https://squarecowmovers.com/packing-on-a-budget/