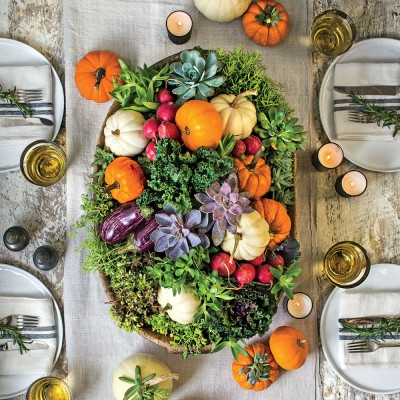 Between the holidays and the colorful autumn changes outside, fall is a popular season for decorators. If you're looking for some inspirational ideas for your own home take a peek at our picks for the top décor trends of the 2015 fall season.
Homemade Decorations Made From the Heart
Every year the best decorations are the ones that are made by hand with the help of friends and family. Who can forget making turkeys with handprints or carving up a pumpkin with your own creative touch? We buy beautiful store-bought decorations just about every year, but they can never quite capture the sentiment that goes into a homemade piece of décor.
Make a Modern Cornucopia
The cornucopia is a classic symbol of a bountiful fall, but modern details can provide an interesting twist. We really like the cornucopia centerpiece created by Southern Living that incorporates succulents and seasonal greens. You can easily modify the design to include a few native plants from your own backyard for a personal touch.
Add Touches of Purple and Muted Green
Pantone is the undisputed authority on fashion and décor color trends. This fall purple is the primary hue of Pantone's seasonal color palette along with subdued, earthy green tones. It's a wonderful color transition from summer to fall that's full of sophistication.
Bring the Fall Foliage Indoors
Colorful autumn leaves are a beautiful way to bring the outdoors in whether you are using real or artificial foliage. Leaves are also extremely versatile and can easily be affixed with a few drops of glue. One fun, very affordable décor idea is The Dollar Store Leaf Tree from craft guru Kim Six.
Add Sparkle to Gourds
Gourds are a fall staple, but this year they are getting a fabulous makeover. Take a page out of Aunt Peach's design book and bedazzle your gourds with gems, rhinestones and metallic paint. All it takes is a little tacky glue to transform a piece of produce into a conversation starter.
Paint Pumpkins Instead of Carving Them
The big, new thing in pumpkin decorations is fanciful painted designs rather than intricate carvings. Quite honestly this idea appeals to us because it's a much less messy and a somewhat simpler way of dressing up pumpkins.
Create a Candy Corn Tree
Turn fall's most popular candy into a delicious display. There are lots of creative ways to use colorful candy corn in your fall décor, but our favorite is the candy corn tree. Pick a few interesting branches from your own yard and fire up your hot-glue gun. Glue pieces of candy corn to the branches like miniature leaves. Fill a vase with the remaining candy corn and anchor the branches inside for a fall-inspired bouquet.
Add Delicate Illumination With Glimmer Strings
The latest craze in decorative lighting is glimmer strings. Tiny LED lights are strung along shapeable, thin filament to create a firefly-like luminescence. In addition to creating a magical glow, glimmer strings are also battery operated so they are easy to add anywhere.
We love helping people dress up their home for the fall holidays, but our real expertise lies in professional moving services. Square Cow Movers can help make any move during the holiday season less stressful and more efficient starting with an instant quote. Fill out the form to get a personalized quote in seconds.
Original Source: https://squarecowmovers.com/our-favorite-fall-decorations-for-2015/