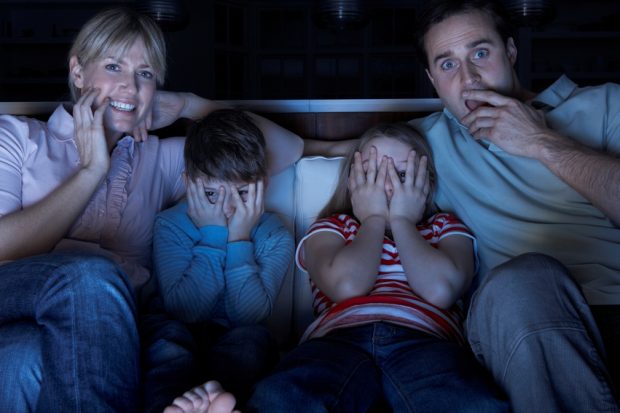 Wait . . . did you hear that? It sounded like a moving truck.
Cue the creepy music as a scary looking house comes into frame. A happy family pulls up in their car followed by a moving truck. They walk up the home's front steps a little hesitant but hopeful.
If the scenario sounds familiar you're not crazy. It's essentially the beginning of many modern day scary movies. Maybe it's the stress of a move or the fear of the unknown that makes moving into a new home such a terrifying thought. Either way, moving clearly equals terror in Hollywood,
As far as being a plot point, moving lends itself well because it's a fresh start to the story. Characters are being thrust into a new environment where they don't know what they'll find around the next corner. In that regard moving in real life isn't too different than the movies, but we doubt you'll find ghosts in the attic and crazy killer neighbors living next door.
If you're looking for a few good horror flicks that will make your upcoming move seem like a walk in the park, cue up a few of these films.
Sinister
This is a great story within a story. Crime writer Ellison Oswalt is researching a murder in the area. His wife comes across old videos in their new house that appear to be connected to Oswalt's research.
Paranormal Activity
This 2007 horror film started the long-running series. A young couple decides to videotape rooms at night after noticing strange things in their new house. As the title suggests, paranormal beings are to blame.
Dark Water
A mother and daughter move into an old apartment after a long custody battle. They think they're going to be able to put their troubles behind them, but a past resident from beyond has a different idea.
The Haunting in Connecticut
You want to know something really creepy? This movie is based on an honest to goodness haunted house in Connecticut. At least according to a family that lived in the house during the 1980s.
The Messengers
The Solomon family thought trading big city life for a farm in North Dakota was going to relieve their stress. They may not have to battle traffic, but now they have to battle supernatural forces.
Panic Room
This one is more of a thriller but it's terrifying nonetheless. Meg and her diabetic daughter move into a new house that luckily has a safe room. But three thieves also think there's a fortune hidden in the home. Moving is a pivotal plot point in this story, and it's somewhat conceivable that the terrifying events could happen in real life.
The Amityville Horror
This movie is based on an event that happened in the town of Amityville, NY during the 1970s. Five of the six members of the DeFoe family were murdered in 1974, but supernatural forces weren't involved. The movie is actually following a new family that's moved into the haunted DeFoe house shortly after the murders.
The Shining
Probably the most famous movie of the bunch, The Shining wins the award for most interesting move for both property and location. A couple and their son move into an old, remote resort to watch over things during the winter. As the snow bears down the ghost guests start coming out.
Afraid to move into a new home on your own? Terrified at the prospect of making another move? Then give us a call! Square Cow Movers customer service is frighteningly good, and our moving bovines aren't spooked by any property.
Original Source: https://squarecowmovers.com/movies-make-moving-look-scary/