Downtown Houston is nothing like what it used to be. The city has gone to great lengths (and spent more than $4 billion) to revitalize the area and to make it a desirable place to live. And they succeeded.
Today, downtown Houston is a hot spot for urbanites that want to be in walking distance of world-class entertainment. Any day of the week you can find something new, from low-key activities to VIP treatment.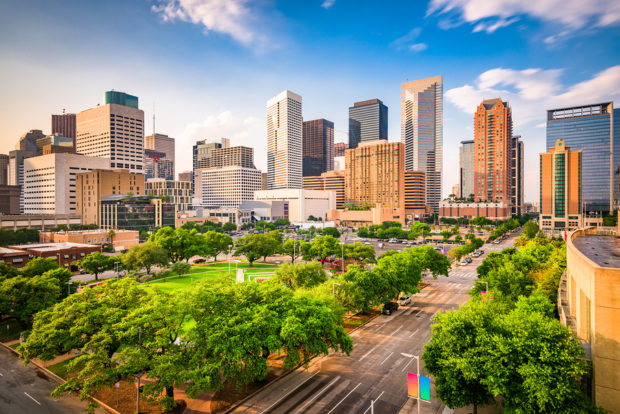 Work on Your Fitness at Discovery Green
Your downtown apartment may have a gym, but you can also work on your fitness at Discovery Green. Many downtown residents say joining the fitness classes help them connect with the community while having fun. Plus, just being outdoors can be beneficial for your mental health.
Tuesday and Thursday evenings are the best times to visit Discovery Green. On Tuesday you can try a circus arts class or do core focused yoga. Get your heart racing on Thursdays with parkour training or tango lessons in the summer.
Tree House Happy Hour
The Grove's Tree House rooftop patio gives guests a spectacular view of the city and the regular happy hours offer a new experience with every event. Each happy hour features a special menu and unique drinks that are perfectly concocted for the season.
Gourmet Grocery Tasting at Phoenicia Specialty Foods
Who said you can't get farm fresh foods in the middle of the city? Phoenicia Specialty Foods proves that grocery shopping can be an entertaining excursion. The grocer regularly has tastings of new wine selections. You can also satisfy your sweet tooth at the gelato bar or by snapping up specialty treats that reflect current events happening around town. Don't forget to check social media for special viewings on their big screen.
With thousands of products from 50+ countries, walking through Phoenicia Specialty Foods is like taking a trip around the world without going far from home.
Grab Lunch at the City Hall Farmers Market
Take a lunch break on Wednesdays from 11 a.m.-1:30 p.m. at the City Hall Farmers Market. During much of the year, dozens of vendors set up shop downtown for a weekly farmers market featuring fresh ready-made food, coffee, cheeses and an array of vegetables.
Weekdays Are Anything but Boring at the Houston Grand Opera
The theatre district is right next door to downtown Houston, giving residents easy access to amazing performances. Many special events and operas take place during the middle of the week on Tuesdays and Wednesdays giving you an escape from the busy workweek. Take advantage of the season subscription and you'll get to experience all six of the annual operas at the HGO with priority seating.
Cool Off at the Tellepsen Family Downtown YMCA
Residents of Market Square Tower swim suspended 500 feet above downtown in a one-of-a-kind pool. Everyone else can cool off during hot summer days at the Tellepsen Family Downtown YMCA. There's aquatic amenities for the entire family including a splash pad, indoor pool, outdoor pool and whirlpool.
Catch a Weekday Game at Minute Maid Park
From March to October Minute Maid Park is home to the Houston Astros. It's a great way to spend an afternoon – whether you like the cheap seats at the top of the stadium or enjoy the thrill of sitting right behind home plate. For the die-hard downtown fans, season tickets are an absolute must.
Ready to move to downtown Houston? Square Cow Movers has you covered with exemplary service and high-rise moving expertise. We know how to navigate the downtown streets in an oversized moving truck and can get all of your things up to the penthouse level.
Give us a call or use the online form to get an instant moving quote!
Original Source: https://squarecowmovers.com/living-downtown-houston-weeknight-adventures/