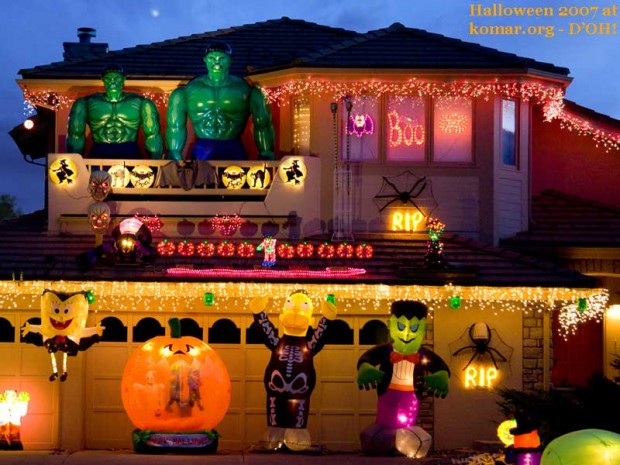 10 tips for packing and storing your Halloween decorations and costumes.
Packing the Decorations, Unless You…
Put the Halloween decorations farthest back in the attic because it will be another full calendar year before you need these. Unless of course you have some crazy plan to scare your kids on April 1st (in which case, please put it up on YouTube for all of us to enjoy.)
Go ahead and push some of the Christmas decorations forward, so they are more accessible, you will be needing them in the next few months. Unless of course you are a big Nightmare Before Christmas fan, in which case, leave the Halloween decor front and center.
Store everything in clear containers so you can see what is inside. Unless you have super scary decorations, then leave them in an opaque box and play a prank on the kids when they go get the Christmas decorations down (again, YouTube please!)
Save the original packaging for your Halloween decorations and you will be able to safely store them with more peace of mind, knowing that nothing will get broken. Unless you need an excuse to buy more stuff for next year, of course….
Clean all the decorations before you pack them away.  Dirty decorations could attract bugs or other vermin, while damp objects are prone to mildew. Unless you are trying to add to your decor's grossness, then they just get better every year…
Pack like with like.  Store all the fragile items together, so you just have one box you know you have to be extra careful with.  Storing all the plastic, fabric or paper items together will also help you make sure nothing gets smushed or ruined by a larger or heavier object. There is no "unless" moment for this. It's tremendously disappointing when things break.
If you will be storing any Halloween candles, make sure you keep them in a cool place.  The attic may become too hot for the candles during the summer and cause the wax to melt. Unless of course those candles look even better when more melted.
Roll costumes instead of folding them to avoid wrinkles or crease lines.  You can also stick tissue paper in between costumes to help them hold their shape and decrease the possibility of wrinkles. Unless you are going to be cool and think of something awesome for next year, in which case, donate your old costumes whenever possible.
If you have younger children who will likely grow out of their costumes before the next year, create a dress-up trunk so your kids can get extra use out of their costumes by playing with them all year. Unless you don't want goblins and mummies and the like jumping out at you from beneath the kitchen counter, then don't. (But if you do let them play with their costumes all year and this does happen, we sincerely hope your kids know about YouTube….)
If any of your Halloween decorations contain batteries, remove the batteries before storing the decorations.  Heat can cause the batteries to leak and ruin your decorations. Again, there is no "unless" for this one. Be smart. Be safe.
The Great Pumpkin Question
What do you do with them after Halloween? We know you aren't going to actually pack up your pumpkin and save it for next year, but Jack-O-Lanterns are some of the most popular Halloween decorations!  Here are 6 ideas for what to do with your Halloween pumpkin.
Save the seeds for next year
Compost or bury in the ground to enrich the soil
Roast the seeds and eat them
Use the pumpkin as a planter
Pumpkin face mask, pumpkins are rich in vitamins A,C,E and Zinc
Cut the pumpkin in half and use the empty shell to create a bird feeder
Candy, DON'T SAVE IT
We don't have to tell you how to take care of your Halloween candy, simply eat it and enjoy. By the way stealing your favorite candy bar from the kids' stash is totally legit. Just consider it a special tax on kids during Halloween. DO NOT SAVE YOUR CANDY FOR NEXT YEAR!!! That's gross and hazardous. And don't you dare save it to pass out to kids next year, or the Cow will come sit on you.
And on that note MOOOOOOOooooooooooooooo…. (We are practicing being cow ghosts) moooooooooooooooOOOOOOOOOooooooooooo
Have a super happy and safe Halloween everyone!
Original Source: https://squarecowmovers.com/how-to-pack-up-your-halloween-decor-for-storage
Image Source: blog.builddirect.com/wp-content/uploads/2010/10/cartoonish-halloween-house.jpg