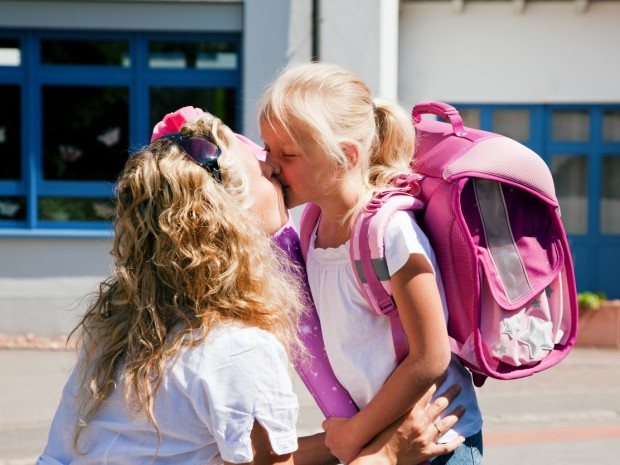 The collective groans of millions of schoolchildren can be heard around every neighborhood at the end of August as the new school year begins.  Simultaneously all parents are inwardly fist pumping and sighing in relief as the end of summer signals children returning to school.  This August your family may be returning to a normal routine, but if you have recently moved or your child is transitioning to middle school or high school, a new school is in the works for your family.  Here are 8 ways you can help your student adjust to a new school.
-Attend any orientation or back-to-school function to help familiarize your student with his new surroundings.  If you can't attend an introductory event at the very least drive by the school or go inside during the limited hours the school may be open during the summer.  Having an opportunity to walk the halls before classes begin will help your kid feel more comfortable.
-Never underestimate the power of a note packed in the lunch box.  Go all out with your love note for your younger student, but be a little more subtle for an older student.  This tiny little reminder from home will help bolster your child's confidence.
-Let your kid pick out a new outfit for the first day of school or a backpack so she has something else to be excited about on her first day.
-A part of your new routine may include extracurriculars.  Sign your student up for an after school activity of their choice.  If your child played soccer at his last school he may enjoy the continuity of playing at his new school, plus it may give him an opportunity to shine.  Your kid may also be ready to explore her identity with a new activity,  perhaps your new neighborhood offers amenities your previous one didn't like horse riding lessons or wake boarding.
-Make a point to try and meet some other children of the same age before the school year starts.  Scope out the neighbors, go to a community pool or park by the school, sign your student up for a local summer camp or see what's happening at the nearby youth group.
-A week before school starts begin transitioning to the new schedule.  Staying up later in the summers is great for family time, but the early mornings will go smoother if your family is already used to getting up earlier.
-Extended family members can help excite your kiddo for the new school year by showing their support.  A care package from grandma or a phone call from grandpa on the first day of school, will help demonstrate to your child that a new school is something to be enthused about.
-You can help prepare your younger child for a new school year by reading books to him with new kid / new school themes.
What tips to you have for helping students adjust to a new school?
Facebook: https://www.facebook.com/SquareCowMoovers
Twitter: https://twitter.com/squarecowmoover
Google+: https://plus.google.com/101941814407639748249/posts
Image: http://www.ingimage.com/imagedetails/42524165_extInt0/02F01607-Ingimage-Mother-taking-her-daughter-to-school-saying-her-go.html
Original Source: https://squarecowmovers.com/how-to-help-your-kids-adjust-to-a-new-school/