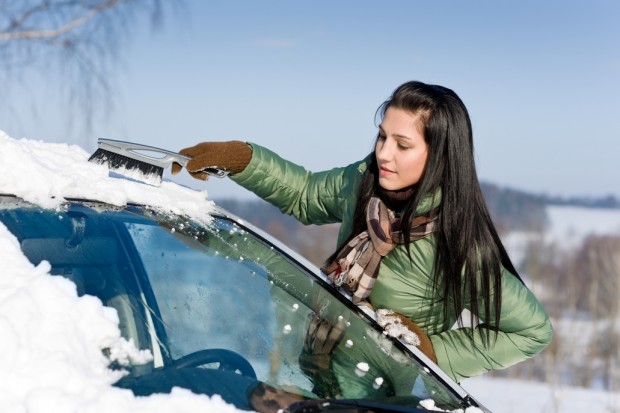 Even when you hire professional movers, it's pretty common to load up your own cars to make the trip to the new house. If you're braving a winter move, that means there are a few more bases to cover to get your vehicles ready for hauling. Ready or not, here are 4 precautions to take before you head off to your new home!
Check the Local Forecasts Along the Route
The only way to really get ready for the winter conditions you may meet on the road is to know what lies ahead. Winter weather can vary dramatically from one region to the next even if you are traveling within one state. Accuweather.com has created a handy road trip planner that includes directions along with weather conditions along the way. Just plug in the starting and destination cities as well as the time you plan to leave to get a complete picture of what you'll probably come across during the drive.
Leave Moving Truck Driving & Trailer Hauling to the Professionals
We totally understand your desire for DIY moving, but a winter move is not the time to try your hand at driving a moving truck. Depending on the road conditions, it can be tricky to drive your own vehicle let alone a massive 20-foot hauler. Same goes for pulling trailers. Moving in Central Texas doesn't usually involve ice, snow and freezing temperatures, but even here that can change with the drop of a hat. Your best bet is to put what you can in your own vehicles and let the moving company deal with transporting the rest.
Get Your Vehicles Serviced for the Winter
A breakdown on the side of the road is never good. During the dead of winter it's down right horrific. To avoid engine troubles during transport, get your vehicle fully serviced and winterized a week before the move. This handy car winterization checklist will help you make sure everything is running on all cylinders.
Car Winterization Checklist:
Oil change with thinner oil.
Adjust your coolant to a ratio of 60% coolant 40% water.
Check the entire battery system, including the fluid.
Add windshield wiper fluid with a small amount of antifreeze.
Check your tires – consider putting on snow tires if you'll be driving through rough winter weather.
Load Your Vehicle Up With Winter Travel Tools
Just in case you run into incremental weather along the way, hit a patch of snow, or blow a tire it's important to be prepared. While you're loading everything up in the moving truck leave these items out so they can be kept in your own car.
Shovel
Flashlight
Blankets
Gallon of water
Oil
Ice scraper
Jumper cables
Tow rope
Flares
Bag of sand
Emergency first aid kit
Sleeping bag
Extra set of clothes for each person
Energy bars
Extra cash
Boots
Hand radio
Fortunately, the winter weather usually plays pretty nice in Central Texas, but that isn't always the case. The team at Square Cow Movers can help you avoid winter moving mishaps and make the process much easier all around. Start by using our online form to get an instant moving quote!