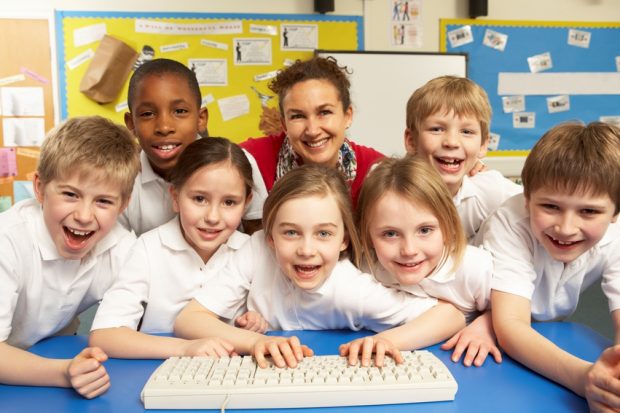 When you're moving on to greener pastures there are a few things that you want to upgrade. For many people the nearby schools are on that short list.
During summer moving services are in high demand because families are trying to get relocated before the new school year starts. If that's the case for your herd check out our tips on how to find the best schools in your new city or neighborhood.
Do a Search on GreatSchools.org
GreatSchools.org is one of the top school review websites in the U.S. They have information on schools in dozens of sizeable cities. The ratings are based on test results and user reviews. You can see the overall rating for a city (handy if you are deciding where to relocate) or drill down to get the score for a specific school.
Searches can be done by school grade level and filtered further by score and/or school type. Home addresses can also be used to narrow the selection to schools that are assigned to a specific area. If you're looking for a home within a school's vicinity there's a quick link to a pre-filtered Zillow page.
Real Estate Websites
If living in a good school district is a top priority for your family you can check that off the list while you look for a new home. Real estate websites like Realtor.com and Redfin.com provide school ratings for each home listing – which are often provided by GreatSchools.org. It will give you a better idea of the education options in an area and the overall quality.
We really like the breakdown that was recently added to Realtor.com. You can see lists for each type of school (public and private), the scores are color-coded and it tells you how far away the school is from the property. Using the site's app you can also search for homes using the school district as a filter.
Visit the School District's Website
Virtually all school districts across the country have websites with general information and news about the educational facilities they manage. One key thing to look for to gauge the quality of the school is its performance on standardized tests.
For example, on the Austin Independent School District website you can search by school to get all kinds of facts and stats. There is a performance and demographics section with graphs and charts that show the latest STARR passing rates for each subject. You can also see the schools' report card from the Texas Education Agency.
If you have a child that's currently in middle school or high school the graduation rate is another important statistics to know. Sports and extra curricular activities can also help you decide which school will work best.
Tour Schools If Possible
If you're able to visit before the move or have time after moving into your new home, visit the schools in your district. You'll get a first-hand look at the grounds and facilities, and you can gauge how easy it will be to shuttle your kids to school every day.
All the moving bovines at Square Cow Movers are happy to provide their personal insight on local schools. If you're moving to Central Texas or the Denver metro we can also help you get settled before the new school year starts no matter what district you live in. Call us today to tell us more about your move or use the online form to receive an instant moving quote!