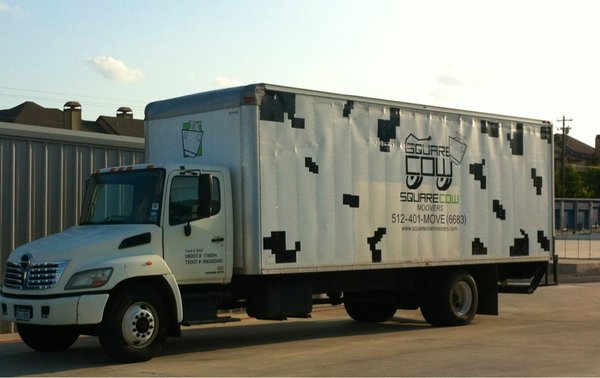 Austin is known for its food trucks.  While there is a lot of food on wheels, this mobile trend extends beyond the edible.  As Square Cow Moovers, we love (you guessed it) things that moove.  Here are a few of our favorite mobile Austin businesses that moove, in short, everything on wheels.
Mobile Grooming
Instead of hustling your dog into the car and battling traffic to take your dog to and from the groomer's, these folks will come to you!  These mobile grooming units outfitted with everything a doggie stylist could need, will pull up into your driveway and help your pet get a new 'do!
Here are a few mobile Austin groomers.
Sir Fur
7107 Brodie Ln
Austin, TX 78745
(512) 899-8989
Zoe & Friends Grooming
Austin, TX 78613
(512) 507-3571
Ruff Cuts Mobile Pet Grooming
Austin, TX 78746
(512) 522-0334
Mobile Gaming
If you want to throw the best birthday bash on the block, you may need a little help in the fun and games department.  When pin the tail on the donkey or a plain ol' piñata just won't cut it, call these guys.
Games 2 U
Austin, TX 78750
(888) 920-5597
This local mobile entertainment company got its start right here in our neck of the woods.  They are actually kind of famous, did you happen to see their appearance on Shark Tank?  If you want a really different birthday experience brought to you, these are your guys!
Hop N Party
9311 FM 620 N
Ste 118
Austin, TX 78726
(512) 745-0201
If you are looking for a bouncy house or an inflatable water slide, Hop N Party will deliver and take care of the clean up!
Mobile Maids
Maid services that come to you are nothing new, how else would they clean your house?  But sometimes the funny cars with big hands or bright colors will catch our eye out on the road.
706 N Lamar Blvd
Austin, TX 7870
(512) 479-7978
7501 Meadowview Ln
Austin, TX 78752
(512) 775-0652
Mobile Sweets and Treats
We know that we said Austin already had enough food trucks, but even we can't skip dessert! Remember when the ice cream truck used to come through your neighborhood? Relive the good ol' days with these great sweet trucks.
Kona Ice
Cedar Park, TX 78613
(512) 850-1777
So we might be a little biased by mentioning our friends at Kona Ice, but we figure we owe them a favor.  They helped us let our employees know how much we appreciated them by delivering some sweet treats on a hot day.  Read about that here.
Coolhaus
Austin, TX 78701
An ice cream sandwich made with homemade cookies?  SOLD!
Mobile Community Service and Outreach
When we say "everything on wheels" we mean EVERYTHING.  In Austin you can even volunteer on wheels!
903 S Capital of Texas Hwy
West Lake Hills, TX 78746
(512) 328-7299
This is a great local organization that helps our community with food on wheels.  Help feed the homeless with Mobile Loaves and Fishes!
The Blood Center of Central Texas
4300 N Lamar Blvd
Austin, TX 78756
(512) 206-1266
The Blood Center of Central Texas has a special brightly colored bus known as the bloodmobile where you can donate blood!
Have a great day Austin and keep things mooving!
Image Source: www.yelp.com/biz_photos/3-guys-mobile-car-wash-austin-2?select=3jN_d1N-9f5tsWYbjMRxzA#3jN_d1N-9f5tsWYbjMRxzA
Original Source: https://squarecowmovers.com/everything-on-wheels