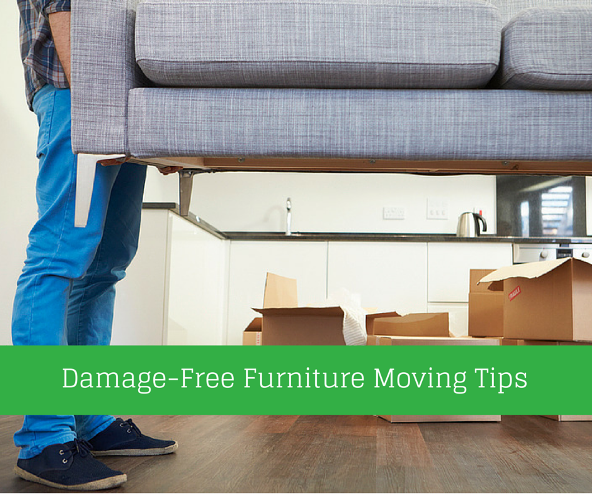 Moving furniture around can give your home a fresh update without buying anything, but if things get damaged along the way a quick reconfiguration can end up costing you a pretty penny. Make sure you don't damage the floors, walls, doors or furniture with these moving tips.
Protect Your Furniture
Get a Helping Hand – Trying to move furniture on your own is the quickest way to bang up your pieces. Whenever possible enlist the help of two people – one to help you carry the furniture and another to help guide you.
Map It Out First – The less you have to move a piece of furniture, the less likely you are to damage something. It's always best to take the time to figure out where you want furniture before you move it. There are a number of apps like Home Design 3D that can help you put together mock layouts to decide which option you like best before beginning the move.
Remove or Secure Drawers – Anytime you are moving a piece of furniture with drawers, remove them if possible. If not, tape them so that they won't slide open in the middle of the move.
Cover the Furniture – Covering your furniture helps to protect it in the event it rubs up against anything. If you're moving wooden items this is a must, even if you're just going from one room to another. There are a lot of options from plastic wraps for upholstered furniture to pads to everyday sheets.
Protect Your Floors
Use Sliders – Furniture sliders are designed to make moving furniture easier and protect your floors from damage. They come in a variety of shapes and sizes from small felt pads that go on the legs of chairs to full panels that make it easy to slide heavy pieces like pianos.
Lay Down a Layer of Protection – On wood and tile floors tape down cardboard or ram board to protect the hard surface. Usually carpets are fine, but laying down a film protector will preventing people from tracking in dirt and may make it easier to slide furniture into a new spot.
Protect Your Walls and Doors
Corner Guards – Coming around a corner you may not be able to see what you're doing or maneuver the furniture all that well. Corner guards help to ensure the edges of walls are fully protected.
Tape Up Paper – Scuffs and scraps are a common occurrence when moving furniture down hallways or from room-to-room. It may take a little time, but taping up packing paper can keep your walls from getting damaged.
Remove Doors – It only takes a few minutes to take a door off its hinges so it's out of the way and safe from harm. Plus, it will make it easier to get furniture in and out of the home.
Door Jam Protectors – Now that the doors are off, it's easy to use door jam protectors. These pads fit around the door jam on either side to prevent scrapes, dents and bangs when moving furniture through doorways.
One of the best ways of protecting furniture, floors and your home is by hiring professional movers that can take care of the heavy lifting. At Square Cow Movers our crew is highly trained in moving things around so that nothing gets damaged. Whether you are rearranging your home, redecorating or making a complete move, we can help!
Original source: https://squarecowmovers.com/damage-free-furniture-moving-tips/