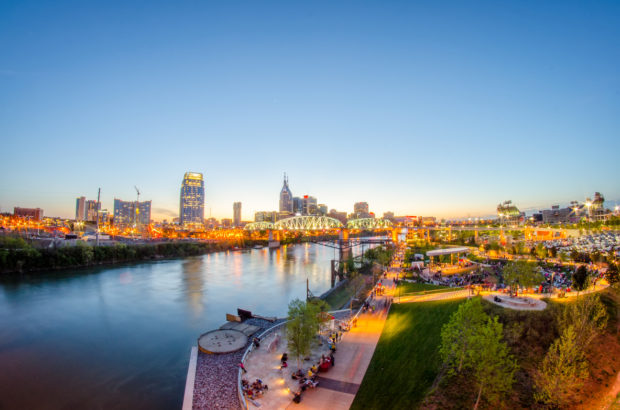 Spring is the season for festivals in Nashville! With each passing year more festivals get added to the busy spring schedule, but locals aren't complaining. If you're looking for things to do over the next six weeks, make sure to put these festivals on your calendar.
Nashville Elvis Festival
March 22nd-25th
The Nashville Elvis Festival celebrates Tennessee's most famous resident. The Ultimate Elvis Tribute Artist Contest alone is worth it. You'll also be treated to four days of rock and gospel music, recording studio recreations, an Elvis game show and dozens of other events that celebrate the King of Rock and Roll.
Tin Pan South Songwriters Festival
April 3rd-7th
Did you come to Music City to launch a songwriting career? Or maybe you caught the music bug after moving to Nashville? Either way, you can hone your skills and get inspired at the Tin Pan South Songwriters Festival.
Edgehill Rocks Festival
April 7th, 10:00am-4:00pm
Outdoor music, delicious food and beautiful art – what more could you want from a free festival? How about giving back to the community at the same time? The Edgehill Rocks Festival is annual event that benefits the Organized Neighbors of Edgehill.
Nashville VegFest
April 7th, 10:00am-6:00pm
If you're the type that bypasses Tennessee BBQ for salad, then you'll want to get down to the Nashville VegFest. This festival is all about living a plant-based lifestyle. But even meat eaters are sure to find delicious grub from local, state and national vendors.
Nashville Cherry Blossom Festival
April 14th, 9:00am-5:00pm
The Nashville Cherry Blossom Festival has been called the best family-friendly festival in the state. Each year the Nashville Public Square is transformed into a lively fest that celebrates the spring as well as Japanese culture. You'll be immersed in unique sights, sounds and smells of Japan in the heart of Nashville.
8th Annual Nashville Outdoor Recreation Festival & Expo
April 14th, 9:00am-3:30pm
Nashville locals are all about enjoying the great outdoors. You can test out the latest equipment and talk to knowledgeable local vendors at the annual Nashville Outdoor Recreation Festival and Expo at the Bells Bend Outdoor Center.
Rites of Spring Music Festival
April 20th-21st
Every year since 1971, Vanderbilt University has hosted the Rites of Spring Music Festival. Thousands of people show up for two days of outdoor music, which is largely geared towards a younger audience.
Nashville Country Living Fair
April 20th-22nd, 10:00am-5:00pm
Homeowners that are looking to spruce up their home this spring will want to get down to the Nashville Country Living Fair. Like other Country Living fairs, you'll get to talk with experts, watch live demos and test out new products before you buy.
Slawburger Festival
April 21st, 7:00am-5:00pm
This is probably the most unique food festival you'll find this Spring. Right next door in Fayetteville (the home of the slawburger) the Slawburger Festival puts food front and center. Of course, slawburgers are on the menu, but you'll also be treated to a pancake breakfast, slaw contest and scavenger hunt.
Nashville Earth Day Festival
April 21st, 11:00am-6:00pm
Nashville joins the rest of the world this April with an Earth Day Festival of its own. Centennial Park is transformed into an epicenter for eco-friendly living. There will be live music, hands-on activities and exhibits that are free for everyone.
Nash Spring Bash
April 29th, 11:00am-5:00pm
The Nash Spring Bash is a celebration of Nashville where attendees can show support for their community and local vendors. Dozens of food trucks and vendors will claim a spot in Public Square Park for a free day of family fun.
Want to spend more time enjoying the spring festivals and less time moving to Nashville? From professional packing services to long distance hauls, Square Cow Movers is a courteous team of moving experts with experience working throughout the Nashville metro. Give us a call to learn more about how we can help!
Original Source: https://squarecowmovers.com/celebrating-springtime-nashville-festivals-galore/