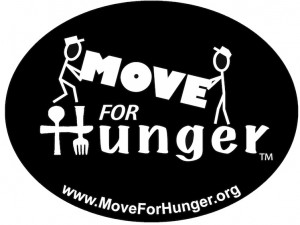 Move For Hunger is an incredible program started by the Lowy family in Neptune, NJ in an effort to help supply food banks with non-perishable goods from the thousands of pantries cleaned out every year when people move.
We move hundreds of households and businesses every year, so we know how much food people throw out, simply because they don't know what to do with it, or they don't have time to deal with it. All that is about to change when you work with Square Cow Movers.
How It Works
When we come to give you an estimate, we will drop off a box at your house. Either you can pack it with the non-perishables from your pantry, or we can do it for you on moving day. We will then take that box off your hands and donate it to your local area food bank (arranged by Move For Hunger).
Now, you will feel like you are giving back to your community one last time before you join a new one. Also, remember that the Salvation Army and Goodwill are always looking for donations of clothes and other useful goods to give to those less fortunate. Be sure to talk to us about your donations Austin.
Leave a place that you have been better than you found it! Moo.