The new trend for apartment dwellers is to downsize the living space. We all know that the first rule of living in a small home is to purge all unnecessary items to create more space. But if you find that things are still a little cramped, use the tips below to maximize the storage in a small apartment.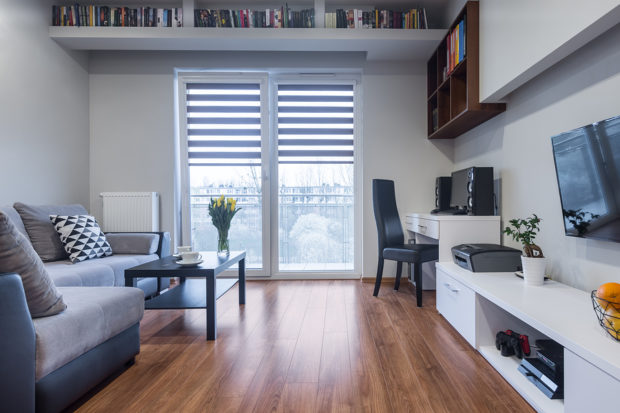 1. Make Your Closets More Efficient
The best place to start is your closets. The standard rods and a shelf are OK, but they don't maximize the storage space.
Take stock and measurements of all your closets. Start adding racks, hooks, shelves, under-the-shelf racks and cubbies that enhance organizational excellence and maximize storage. Pack a spare suitcase with items as well! Put your closet doors to use by adding another rod, shoe rack or hooks on the inside of the door to make use of the flat surface. For another genius idea, use soda can tabs to double up your hangers.
2. Store Items Under the Bed
Just about everyone has at least 6-8" of available space under their bed. Find a few shallow Tupperware containers that you can slide under there for winter sweaters, shoes, linens or any other household items.
3. Invest in a Cube Organizer Shelf
Cube organizer bins have been around for a while, and it was only a matter of time before they created shelves to match. These shelves are open on both sides and divided into squares so that the cube organizers can fit right in. Pick a few decorative cubes and you'll get some fabulous extra storage.
4. Put Baskets on the Top of Cabinets
Making use of your vertical space is key in a small apartment. There's about a foot or so of space above your kitchen, bathroom and utility room cabinets that can be used for storage. Keep things organized and maximize the space with decorative baskets.
5. Opt for Furniture With Hidden Storage
Choose pieces of great furniture that double as storage! There are ottomans, coffee tables and even Murphy beds that have hidden storage spaces. They are just as comfortable as other options, but they provide you with extra room to keep things tucked away.
6. Turn Your Headboard Into a Storage Space
Need some extra storage in the bedroom? Instead of using a traditional headboard, think about using a bookcase. It gives you extra space to store books, knick knacks, a lamp and just about anything else you have in mind.
7. Fold Down Tables and Desks
Have you found yourself needing the occasional tabletop but don't have space for a table? A fold-down option that is affixed to the wall may just be the way to go. In a matter of seconds, you have a work space or a spot to eat dinner.
8. Get a Storage Unit
Sometimes, no matter how well-organized you are and how well you utilize your space, there just isn't enough of it. That's when you need a storage unit.
A storage unit is often a necessity when you're moving, but it can also be beneficial for people who are already settled. It's great for seasonal items that aren't used for months at a time, extra furniture, and sentimental family heirlooms.
If you live in the Austin area, you can get affordable storage at Square Cow Movers. We had so many clients that needed storage during local moves and long-distance moves that we decided to expand our business and become a one-stop shop. Give us a call to learn more about our storage options!
Original Source: https://squarecowmovers.com/8-tips-storage-small-apartments/